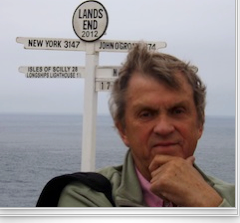 Here, there, everywhere and some other places too …
And then it is Italy...
22/04/13 11:23 Filed in:
Italy
| Site review
| Grimaud
| Liguria
| Dougal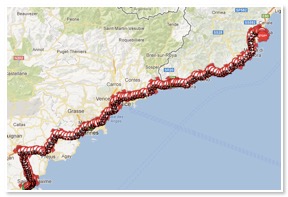 A drive of 134 miles took us from Port Grimaud on the French Riviera into the NW coastal region of Liguria in Italy. A spectacular drive with countless tunnels and viaducts and no shortage of stunning views.

But before we start contemplating the joys of Italy some thoughts on the past few days in Port Grimaud. Last night was another visit to the camp restaurant where we enjoyed a very pleasant meal. None more so than Mr Dougal who charmed our favourite waitress, Miriam, to such a degree that he got his own special desert of vanilla ice cream.

We all like surprises but I think you can work out that he was very pleasantly moved when it arrived in front of him!

So a very pleasant stay near St Tropez but time to move on and our next stop is a rendezvous with our friends Loretta and Gianni Carbone. They were staying at Camping Delfino just 3 kilometres from the Liguria town of Alassio in a quite unusual site. The picture shows the layout with structures in place to enable you to control how much shade you would like to have. I have never come across this before and I am not too sure as to the effect as we are currently off season so its hard to get a perspective with so few customers. They do, however, seem to cater for large numbers of people who keep their vehicles here permanently.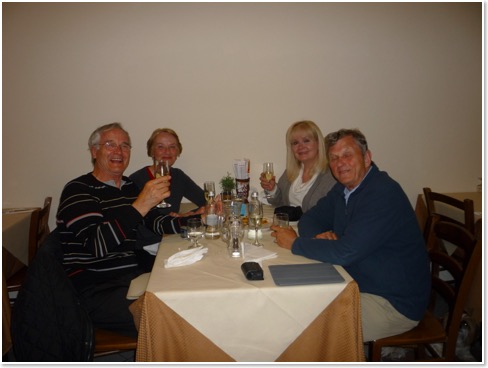 The site is very typical of Italian sites, family run and so friendly and helpful. The restaurant was a big hit with us and a big benefit to us was having Gianni who just loves to keep us right on the intricacies of the Italian kitchen. A proud Italian if ever there was one!

There were, however, some downsides. Firstly, the weather took a turn for the worse and it rained all night long. Not nice. Secondly there is no internet. Or should I say there is no Internet that works!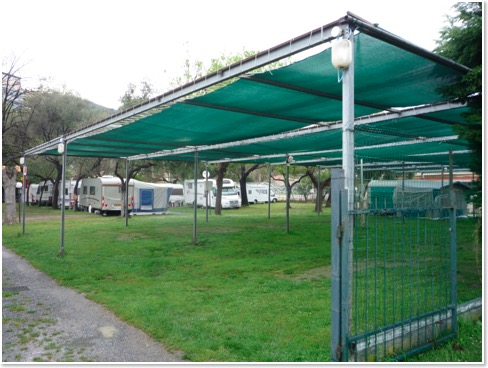 Sidebar
T