29/04/13 12:00 Filed in:
Italy
| Site review
| Wi Fi
| Lake Garda
This is a "Good news…Bad news" item. Its about choosing a site so read on.

In this blog I have previously referred to the process of selecting sites. There are many considerations and many differing tastes. By and large we tend to end up on the type of sites we like. The location is checked out as carefully as possible on Google Earth and whatever reviews are available are fully digested. As the saying goes, it works for us, usually.

It is careful research that found us gems like La Bastide in Sainte-Foy la Grande, Camping Jungfrau in Switzerland, Lincoln Farm Park in Oxfordshire and our present stopover,
Camping Miramare
, on the tip of the peninsula overlooking Venice. A beautiful site and facilities which are second to none, add to that a restaurant just 50 paces from the front gate where we had possibly our best meal to date and you get a very high scoring site to which we will always return if we are anywhere near. Needless to say it has its downsides but I can think of only one. It is beside the sea but has no sea views and that is it. Weigh that against, lovely staff, superb toilet facilities, the best dog facility I have ever come across, beautiful spacious pitches and a brilliant little supermarket and suddenly sea views aren't that important. By the way I didn't mention Wi Fi which is superb and costs only €5 for however long you stay, and my satellite TV works! A fabulous site if ever there was one.
Click here to visit its website
.

That is the good news and I want to take some time to talk about the bad news which comes in the form of a disastrous site selection at Lake Garda the day before yesterday. There is a background which I want to explain in some detail.

You will have gathered from our blog entries that we found a delightful site on the Ligurian Coast line called Camping Smeraldo. Its entry, through a tunnel was almost magical and you felt, with the majestic views, that you were in a special place. Well, all good things must come to an end and we decided that Saturday was the best day to travel as the weather changed rather dramatically and sunshine gave way to heavy rain.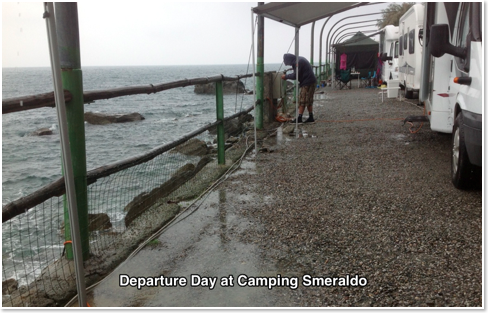 Our trail was heading north west so after careful consideration we decided to head for the Lake Garda area, a drive of 181 miles but mostly on motorways.

Any cursory glance at a map of Lake Garda will tell you that there are hundreds of sites to choose from so here a research system was important. Our first point of interest was to find something towards the South end of the lake so that our onward route to Venice would be easiest. Some weeks ago I posed a question on the
Motorhomefun forum
(one of my favourite sources of chit chat and tips). The question asked if anyone had recommendations for sites for the area. I got a number of replies but one campsite name came up twice. Camp Butterfly. I followed this up with a phone call to check for availability and to ensure that there was wi fi available throughout the site. The answer was an emphatic "yes" to both. Let me make it clear at this point that I can well understand that people come to this site and enjoy it but for us it was our single worst experience in years.

Trying to be as balanced as I possibly can be I must say that the site is mis managed, fronted by staff who clearly cannot cope and worse, who are oblivious to the needs of the many visitors the location of their site attracts. The notion that the customers needs are important is absolutely irrelevant here. Allow me to explain.

1 When we arrived we drew up into a narrow entrance where there was a queue of people waiting to register, no problem with that. They were being attended by one staff member yet I counted 4 inside the office. The registration process was painful and I watched almost every single customer getting angry. The lady dealing with all of this was Rebecca, who within my hearing said to at least 3 different customers, "There are plenty of sites, you don't have to stay here". In time she was to say exactly the same thing to me.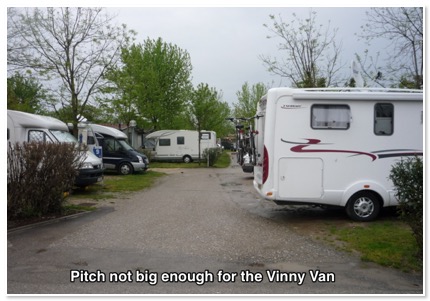 2 I was standing with Gianni, who is native Italian so we could make the registration as smooth as possible. It took 10 minutes to register both of us, a process at any other camp would take less than half that. Still the extra heads in the reception area contributed nothing that we could see. At Last, we are allocated our pitches and off we go. Our first big problem. They are occupied. We selected two empty pitches close by and tried to squeeze our vehicles into them. Add to all this it had been raining heavily (not their fault) and the site was muddy and wet. Very unpleasant conditions.

3 On the plus side we were near to the toilet block which, I must say, was well maintained and very clean.

4 Close by was a restaurant which seemed to be owned by an external organisation. It was truly excellent and we drowned our sorrows in style in the only pleasantly memorable part of our stay.

5 I have saved the worst to last. Wi Fi. I have commented before on different attitudes to the Internet from site to site, some are superb and some just don't have it. What I have never come across is the abject stupidity that Camp Butterfly demonstrate. They have a sign which says that you can only buy a subscription on a Saturday between 7:00pm and 9:00pm.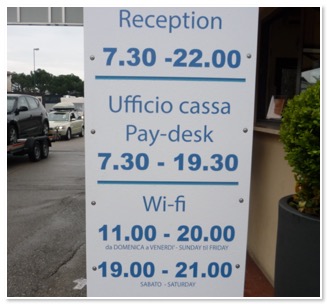 I returned at 6:30pm to see if I could buy a login as I had a commitment to pursue on Skype. "No", was the answer, "Not until 7:00pm." I showed my Press Card and asked if they could make an exception to facilitate me. No, said the same Rebecca. I asked why they were so unbending with their rules and what she said really surprised me. "Our boss says we cannot take money for the Internet until 7:00pm because we are so busy" I asked if I could talk to the boss? "No, the rules are there. It has to be 7:00pm" I should point out that it is now 6:45pm and there is no one else in the queue and, I would have thought, it was obvious that they were headed towards a public relations disaster. Totally unmoved I got my marching orders until 7:00pm.

I asked again about the Boss and was met with blank stares. Now if you think that was an end to it, read on.

I returned at 7:00pm to find a long queue of people waiting to get login subscriptions. When it came to my turn I explained I wanted separate subscriptions, one for me, one for Nancy and one for Gianni and Loretta. "Can I see your passport please?" For the internet?? They had previously seen and copied my passport during the registration process (and all the others as well). My passport was back in the van so I showed them my Press Card, full picture ID. I pointed out that they had already everyones passport details but alas this wasn't acceptable. By this stage this was unbearably stupid. This was an INTERNET connection we were trying to buy. Nancy arrived, showed her driving licence and that was it completed. Never have I ever come across a location where you have to produce a passport to sign onto an Internet connection.

Any idiot who knows anything about the Internet will know that the more people who use it the slower it will get. If you have a local network and you "herd" the users to all buy their connection at the same time the system becomes overloaded and, as in this case, becomes unusable. Guess what? It was unusable. I was unable to work and so we all moved to the site restaurant where we had a lovely meal. The only positive I have for this site.

To the Boss, if I had a chance to meet him I would say. You are blessed in the location of your site. Sadly you take advantage of your visitors in the organisation of your reception and the skimpiness of your pitches. Your staff hide behind your "rules" which, in the case of the wi fi, causes your system to become overloaded. That sir or madam is simple stupidity. This is not just one disgruntled customer. I saw many who complained about having to stand in the rain to buy an Internet connection. Charging people €2 an hour to use the Internet which is now the vehicle for people to work and keep contact with their families is unconscionable; to organise it in such a way as to put a strain on the resource to the point that it doesn't work is, in my humble opinion, "virtually" dishonest.

The following day we left and headed for Venice. Before departure I brought my complaint to the reception. The Internet didn't work. Rebecca threw €20 on the desk, "Here is your money back" in the most ungracious gesture imaginable.

So Boss, why not write to me and tell me anything that could explain away such a dire experience.

And to bring us right up to date…faith restored!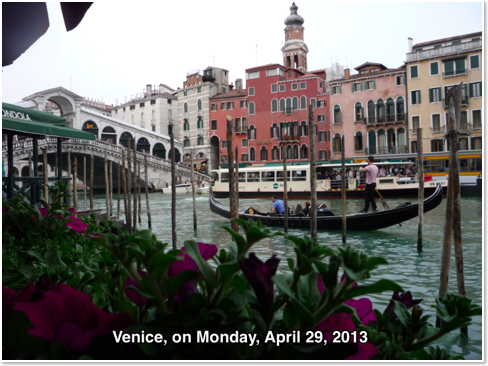 One of the most enjoyable aspects of the motorhoming lifestyle are the little eccentricities that we all indulge in. When Ji Hye was travelling with us she just loved the camaraderie displayed as motorhomers waved to each other as we sped along the various continental roads. And within that the apparent "superiority complex" of pointedly NOT waving to caravan owners etc. We are a strange lot.

Add to that the fact that you immediately bond with anyone and everyone when you eventually settle on a site and you realise you are part of a very special club. Take, for example our travelling companions on this trip, Gianni and Loretta Carbone. Our relationship is just a year old having met on the banks of the Loire in April 2012 and have been firm friends ever since. We have lots in common including an inherent curiosity to explore and try things new.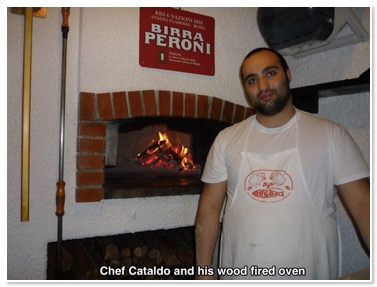 So it is that curiosity that left us open to the excitement of finding not just a new campsite but one of such unique proportions that it has crept to the very top of our all time favourites list. as
described in our previous blog
, We have been here now a few days and regard it as a gift that keeps on giving.

Take last night, for example. Yesterday was a feast day in Italy, a national holiday and not surprisingly the site filled up with every imaginable shape and size of vehicle. Smeraldo is obviously a gem in this Ligurian coastline and the Italians have been very successful in keeping the secret. We are the only two GB vehicles on the site although there is a sprinkling of Spanish and German rigs.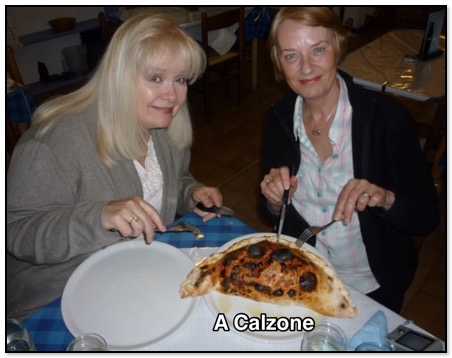 So last night we returned to the little site restaurant located with its own terrace with views that defy description. It is called "Dos Olas" and is a Ristorante, Pizzeria. The facility is run by a charming Italian/Spanish couple, Yuri and Suzanne Leandri and they bring a delightful charm and a personal touch. Assisted ably by Chef Cataldo who manages the wood fired Pizza oven they produce quality food the Italian way.

Last night we felt celebratory for a whole variety of reasons and I opted for a salami Pizza while Nancy and Loretta thought they would start with a Calzone. Now my experience of Calzones is limited to the time I lived in Arizona where a Calzone was something you had as a starter to get you in the "mood" for the real stuff to come later. This was a game changer as the picture shows Nancy and Loretta quickly decided that sharing one would pass as the main course!! Fantastic.

Needless to say Gianni is in his element, proud to be an Italian and guiding us beautifully through menus with little tips along the way.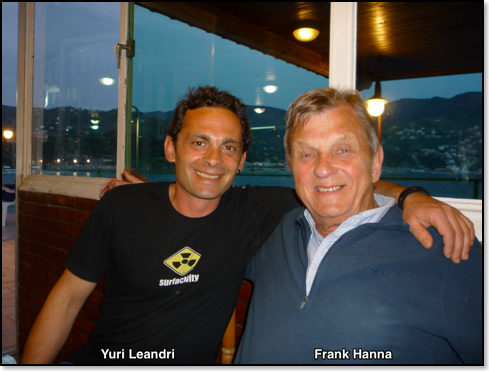 As the evening drew to a close, Yuri came and joined us rounding up the evening with a bottle of Limoncello for a nightcap on the house.

On reflection, this restaurant deserves all the luck it gets. True, it is in a beautiful location but the inaccessibility of the campsite means that his customer base is likely to be confined to the camping fraternity. A worthy venture and one that deserves a lot of support.
So when we awake tomorrow it will be the start of our next days travel.

We are heading south to Carcassonne which is "a fairytale collection of drawbridges, towers and atmospheric cobbled streets was reputedly the inspiration for Walt Disney's The Sleeping Beauty, and it's a "must-see" on any trip through this part of southern France." Thats what the city's website says! It is just off the main motorway from Bordeaux to Toulouse and, in truth, we have seen it from afar on a number of occasions and each time we said, "We must go there sometime." So this is it.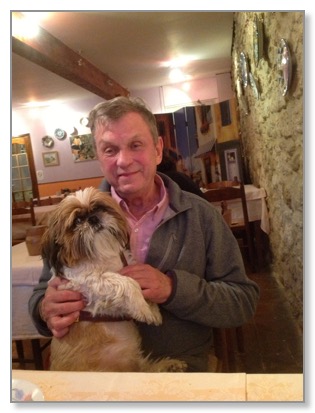 The journey is just over 190 miles although the vast majority of that is on a motorway so, hopefully, it will be a comfortable trip.

Last night we took the advice of Brenda at the campsite and tried out a new (to us) restaurant called, L'Escapade situated just outside Port-Sainte-Foy and I have to say it was top notch. We would go back there in a heart beat and as the picture shows, that goes for all of us.

So for reflections on our time in the Dordogne region lets hear what:

As we prepare for our departure from what is, arguably, our favourite campsite in France, I reflect on the nine days of time on the bank of the Dordogne. Firstly, many thanks to Bob, Brenda and Peter; who own and operate Camping La Bastide. It is due to their tireless efforts in assuring the facilities and grounds are maintained in top-notch condition that this destination remains as a 'must see' for us every year.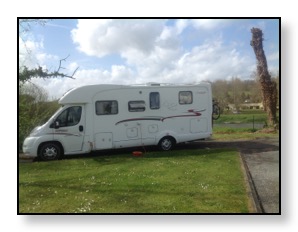 We were fortunate that a few days of the Spring-showers season allowed us a bit of sunshine, and we made the most of it, visiting the local market on Saturday, and even the medieval market in Issigeac on Sunday. As well as those treats, we were near enough to Bordeaux that Ji Hye was able to travel to Sainte Foy Le Grande to enjoy another weekend with us, and as a treat, we rented a chalet from Camping La Bastide for Ji Hye, so she even had her own little home for two nights!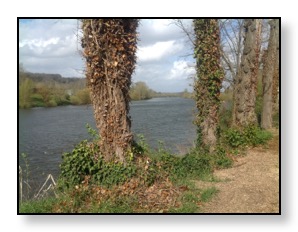 We discovered that one of our favourite restaurants in Sainte Foy had closed, but the good news was the lady (Catherine) who owned it had opened another a few miles away. We went for a lovely dinner with Bob and Brenda and discovered that not only was the food just as good as we recalled from previous years, but the setting was magnificent, if you're ever in the Dordogne it is highly recommended;
XIII Closhers,
in Monteon; We enjoyed it so much in fact, we took Ji Hye there a few nights later and subsequently discovered a very talented Anglican choir (see Frank's blog entry 6th April.)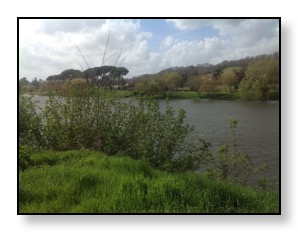 So tomorrow, bright and early (argh!) we'll head off towards Carcassonne, which is a destination I've long requested as we've sped by the medieval walled city in years past. Exciting times!
06/04/13 21:16 Filed in:
Alice McCarthy
| Monteton
| Choir
It's not often that I am taken aback, but I have to say that today had its share of surprises. Market day in Sainte Foy la Grande is special, and by repute it is one of the best markets in the South West of France. So we ambled off this morning and had a look at what was on offer. Despite being a bit chilly outside, we survived and enjoyed the wide range of products on offer. We chatted about last nights experience in Monteton, and enjoyed the number of comments we'd already received from some of our followers. Little did we realise things were about to get a whole lot better.

The surprise came in the form of an e-mail from one of the choir members expressing appreciation for our comments. The e-mail read…

"It was great you discovered us last night! We really enjoy your blog.

I'm one of the choir members and I'm singing at the Monsegur Jazz Festival this summer. Hope you can come."

It was signed by Alice McCarthy (pictured) who is, indeed, one of the choir. Her e-mail contained a link to a webpage where I learned a whole lot more. It was there that I heard recordings of what I found to be a beautiful voice which, quite honestly, blew me away. I also learned that Alice is just 14 years old. I wanted her and her parent's permission to share the music on this blog, so I wrote back and asked for a parent to call me. Half an hour later I was chatting to Louise McCarthy, Alice's mother.

The story, at this point, simply got better. Yes, Alice is a member of the choir. And so is Louise! It doesn't stop there: So too is Daniel McCarthy, aged 12, and Luke McCarthy aged 9! So precisely one quarter of the choir on view last night were McCarthys'! The longer we chatted the more admiration I developed for this fabulous group of ex pats and their talents.

By the way as an aside I got one little fact wrong in the story earlier. If you recall I said "… the age range was from 9 to 92!!" Wrong. It is from 9 to 93! One of the organisational brains of the choir is Ms. Paddy Atkinson, aged 93.

Please take time out to listen to this recording of Alice singing
"Over the Rainbow"
and learn more about her by
clicking here.


Finally don't forget the name Alice McCarthy…You heard it here first!
So far we have stayed 3 nights at Sainte-Foy La Grande at the Camping de la Bastide site and are enjoying the relaxation and the superb facilities.

We have had our moments and one story highlights the special qualities we have come across. For a few days we noticed a damp patch on the carpet just below the sink in the kitchen area. We theorised that maybe we had spilled a glass of water but then I felt that something had juggled the tap inadvertently causing a drip. We were happy with our theories until I had occasion to go to one of the outside lockers to get something. It was saturated revealing a much bigger problem than I first thought.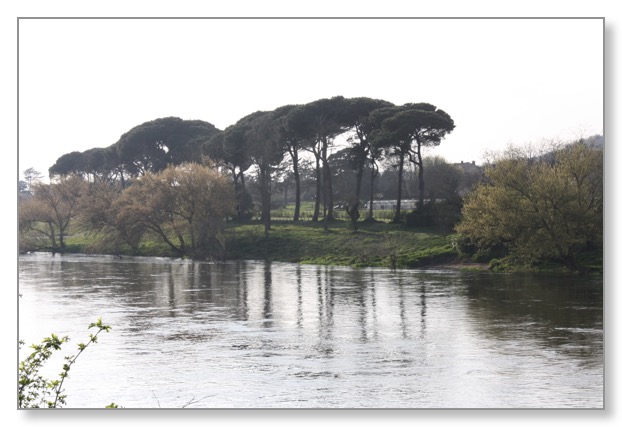 I put my hands up at this stage and confess that my technical skills with the motorhome are on a par with Mickey Mouse but, nonetheless, I did discover the problem. A drainage pipe from the sink to the waste tank had become separated at a middle joint. Simple. Or was it? Plastic piping with joints that just slid into each other seemed not too much of a challenge. As I was fumbling away Bob, the owner, passed by and immediately volunteered to help. He sussed out the problem in no time but realised the solution was just not so simple. Then along came Peter, Bob's son who has forgotten more about things mechanical than I will ever know. Out came the drawers, off came the door and pipes got reunited, sealed and put back to bed secured in a way they had never been before. A lot of good banter as everything got put back together again. Job done and I am now the proud possessor of a happily reunited drainage pipe.

Just across the way another Rapido pulled in and suddenly we have new neighbours. Alan and Lynda are enjoying their granddaughter's company and celebrating their 44th wedding anniversary As always with motor homers we exchanged all sorts of tid bits and they mentioned one of their favourite websites which is
http://www.motorhomefun.co.uk/
. I checked it out and it truly is a mine of information and a very friendly mix of people. I am now signed up and within a matter of 3 hours over 150 members had been to visit my profile. This is a real find and has a great facility to pose problems you might encounter and provide first hand answers within minutes.

There is no doubt the motorhoming community are a great bunch so a big thanks to Peter and Bob and to Alan and Lynda.
02/04/13 09:10 Filed in:
travel
| motorhome
| Site review
| Dordogne
Settled at Camping*** de la Bastide at Sainte-Foy-la Grande on the bank of the River Dordogne. The pictures over the next week will speak for themselves but this is, indeed, one of our very favourite sites. It is small, neat and is owned by a delightful UK couple Bob and Brenda together with their son Peter and his son, Daniel who we have watched grow into a a fun young man over the past few years.

I love the area and we will stay here for about a week.

Time now to talk about the travel over the past few days. When we left the Ile de Re our route took us due south and was planned by the satnav so apart rom the odd 20 mile needed to get off the Island it was pretty much all motorway all the way to Bordeaux. Many people travelling like us seek to avoid the motorways and I entirely accept the fact that it is altogether more interesting to take the lesser roads getting the full value of the French experience. That is my own preference unless of course I have a deadline as was the case heading to Bordeaux. That, however, is not to say that the motorways are boring and unattractive, far from it. The drive was interesting as we spent a considerable time in vineyard country and passed through many different regions that tell their own story, Cognac to mention only one.

Then the approach to Bordeaux is interesting as you pass over the Dordogne and the Gironde as they finally make their journey to the sea. All in all an interesting drive.

Then onto yesterdays trip from Bordeaux to Sainte -Foy La Grande.

Once again we crossed the rivers and were able to make a speedy retreat from Bordeaux and were on the motorways in no time. The trip was a beautiful variation of villages and vineyards by the hundreds and in just over an hour we were entering Sainte-Foy La Grande and our first stop was the major supermarket on the edge of the town where we stocked up and got ready for a nice long resting process.

Setting up at the site was very straightforward…Everything is on hand, water, electricity and drainage all within about 20 feet of the river Dordogne.

For the first time this trip we took out the awning, table and chairs and of course the blue lounger that a certain person has long since claimed as "His Chair". Well, who am I to argue?