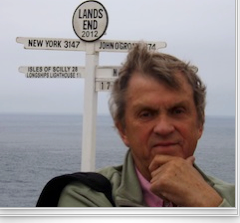 Here, there, everywhere and some other places too …
24/05/13 09:28
Trip summaries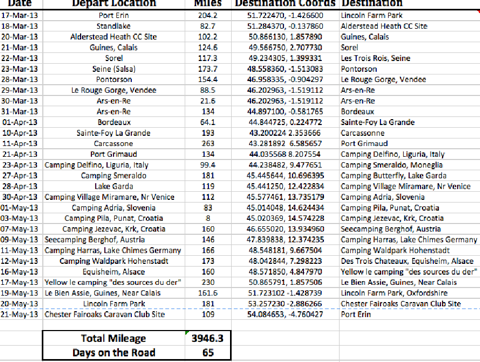 08/05/13 20:08
It was Tuesday, May 7, 2013 and a bright and early start for us as we began the return part of our journey.

It has been eventful so far with new discoveries and the odd disappointment thrown in for good measure. Still isn't that what this thing is all about? New discoveries, new friends and constantly adding new cultures and experiences to our respective lists.

We said our farewells to Dave and Jasmin and started out on what was to prove to be a demanding but stunning trip northwards. A total of 160 miles and passing through three different countries: Croatia Slovenia and finally intoAustria which was a new experience for all of us.

The picture shows the precise route:

We had earmarked an interesting looking site just outside the town of Villach in southern Austria. It is called Seecamping Berghof which is a truly beautiful location. Once again a site where the staff seemed, genuinely, glad to see you and where being helpful is so much nicer than the other thing!

The site has its own live webcam so have a peep for yourself.
Click here.


Well, there is an early start tomorrow for Munich and a fun day is anticipated as it is Ms Nancy's birthday. Let me leave you with the view from our pitch…Picture taken just 20 paces from the front door. Bliss.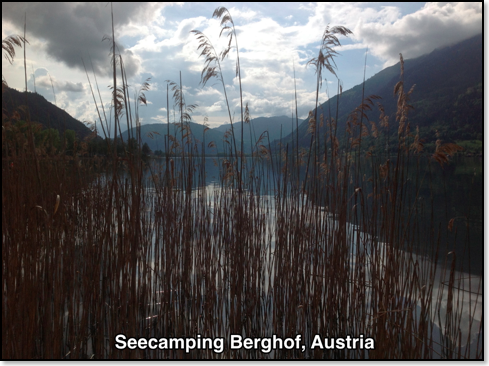 07/05/13 00:55
So, as I write this it is Tuesday, May 7, 2013 and it is time to move on. The homeward route is about to commence.

So some reflections on Camping Jezevac and the overall impression is indeed entirely favourable. The site is fabulous, the location wonderful and the facilities all you could hope for. The only downside was the weather which went from beautiful sunshine on days one and two to intermittent downpours on days three and four. This is May, this is Croatia and the rain is bouncing off the Vinny Van as I write this. Maybe there is something to this global warming stuff.

The stay here has been enhanced by the arrival of Gianni and Loretta's son, David and his charming wife, Jasmine. They are the proud possessors of a VW camper which is supposed to be the smallest camper van on the market. They live, currently, in Germany and travelled down to spend a bit of time with us and they certainly added to the experience.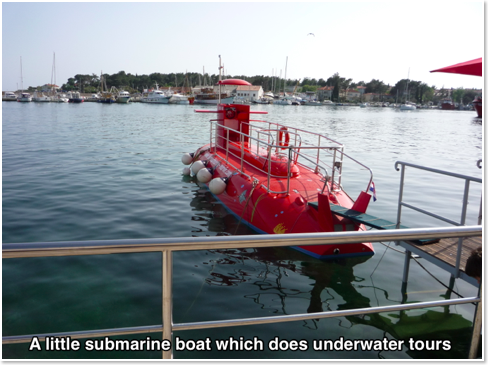 So let me do my best to show you what this place is like and to say at the outset that we thoroughly recommend it should you ever happen to be in this area at any time. We have made prior reference to our experience at Lake Garda and, by comparison, Jezevac is the model on which sites should be based. From the moment we arrived we were greeted by helpful staff who genuinely appeared to like their jobs and wanted to help.

The pitches were beautifully maintained and the view out to sea and the headlands beyond is simply stunning.

We managed several trips into the town of Krk and it is beautiful, thriving place clearly scoring well above Punat at Camping Pali nearby. The same signs of decline were nowhere evident either on the site itself or in the town which appears to be thriving coming into the tourist season.

The bicycles were in constant use and we managed a fair bit of walking too.

Dave and Jasmine came up with an idea that proved to be a real winner. Towards the north of the Island which is marginally smaller than our own Isle of Man, is located the Biserujka Cave, which was discovered over 100 years ago and can be accurately dated to the Ice Age. That fact was authenticated by the discovery of bone remnants of the cave bear, Ursula spelaeus. The caves go inward for 100 meters and downward for 13 meters making it an easy yet fascinating visit. Strangely they have come across quite a number of insects never before seen in any part of the world and to date they have so far discovered 28 different types of organisms, and counting.

The name of the cave Biserujka Cave, conjures part of the local legend…The word is Croatian for pearl and stories abound of smugglers and buried contraband which is par for the course for any decent cave these days and this is certainly a decent cave.

We didn't get to explore any of the boat trips as the weather just made them too unattractive but we made up for it by sampling the fare at both the camp restaurants and they were worth the trip. Some interesting Croatian specialities which were quite delicious and on top of that we managed to Bar B Que successfully for dinner at home for one of the nights.

So you will have gathered the trip was a big success with the only regret centred on the 3 days we spent in Punat, if only we had realised. So the message is clear, if you are travelling this way you could not help but be impressed by Camping Jezevac..

The sadness of leaving such a beautiful location is compensated for by the fact that the four of us are heading off the Island today and northwards into Slovenia and on into Austria.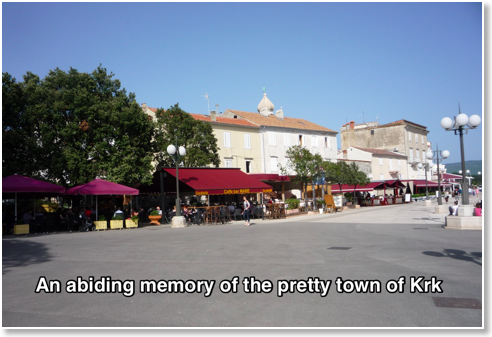 None of us have ever been in Austria and the route we are taking is the exact one that Dave and Jasmine took on the way down here and they have been singing the praises of the terrain since they got her so lots to look forward to on what is approximately a 160 mile trip.

More to follow soon.
04/05/13 08:43
It has often been said that there really are two types of motorhomers. The type who identify a site and simply drive there and stay for the duration of their break or the ones who flit about the place cramming in more mileage and more campsites along the way. We are unmistakably in the second category.

Our feeling is that we want to maximise the experience so there is little point in remaining at a site that doesn't measure up.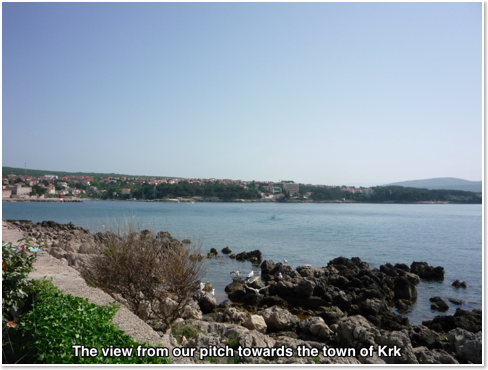 Problem is, how do you identify the good ones and the bad ones? The answer is, I haven't found out yet and herein lies a very interesting experience these past few days.

Nancy has covered the experience in Slovenia at Camping Adria but how we arrived at Camping Pali in Punat, Croatia is really strange.

On the Island of KrK, where we are now based there are a number of sites. Half of them are Naturist sites so unless you want your wobbly bits to be exposed to the world you avoid them. We do! Too many bits, too much wobble.

In the remaining three there is one that is away from the sea so we didn't really consider that so it was a straight choice between Camping Pali and Camping Jezevac. After looking at the locations on Google Earth, checking the reviews I came down in favour of Pali, so did Loretta and so did an English gentleman in Slovenia who actually recommended Pali. So far so good.

Camping Pali is in a beautiful location with direct access to the walkway along the sea front leading into the quaint little town of Punat. So what is the problem?

It seems like just about every country in the world is going through the depths of recession and austerity and, in terms of campsites it is becoming more and more apparent that it is badly affecting them. Whether it is because fewer people are turning up or they are just not making ends meet the overall impression is that many sites are going down hill. It was really apparent in the little restaurant on site where the displayed menu bore no resemblance to what was available. The charming waitress explained that this was their first night and that not everything was ready. She was right and although the meal was ok it certainly did not merit the cost which was based on the full menu prices. We didn't complain because she was clearly stressed with all she had to do at once but we felt it was symptomatic of an overall feeling that the entire place was on the decline.

So it was after 3 nights that we got together and decided to talk about it. All our impressions surfaced, the appearance due to the abundance of the uncut grass and the multitude of weeds, the shanty town appearance of some parts of the site and worst of all, the chemical toilet kept getting blocked leaving the surrounding area with an awful smell.

So two minutes into the chat one of us suggested we might try the other site we had considered and within 15 seconds everyone was agreeing and there and then the decision to leave was taken.

Our pitches, which by this time had been laid out with all the gear, tables, chairs, awnings and knick knacks, were cleared and we were ready for departure. All within 45 minutes.

The other site was 2.8 miles as the crow flies but if the crow was driving a motorhome he would have to follow a windy coastal road for 6 and ½ miles to Camping Jezavac. It is located in the small town of Krk and the difference between the two sites was night and day.

Jezevac is truly beautiful and we got sea front pitches with all the mod cons, well water and electricity. The toilets and showers are excellent and immaculately clean. We will be staying here for a while.

There are not one but two restaurants on the site, a little supermarket and the staff are utterly charming. The site is well laid out and I trust the pictures through out this blog reflect that.

We are about 10 minutes walk from the beautiful town of Krk with boat tours a plenty offering trips from an hour or two up to full day cruises. Perhaps most intriguing is a submarine tour. Watch this space. We have to try that.

This is one of the two restaurants on site serving wood fired pizzas. Looks very inviting.


02/05/13 13:42
In our last offering we were singing the praises of Camping Miramare close to Venice. A super site where nothing is too much trouble. However I have , a word of warning. Mosquitoes. It would appear that we are a tasty bunch as several families of the bugs celebrated May day by dining out on us! Loretta suffered more than the rest of us but we all have our memories.

There will be more about that from Nancy.

There is a magic about Venice and we tried to capture as much as we could in pictures which I hope you enjoy. We had all been there before but not as motorhomers and, in my case, Nancy and I had been here with Ji Hye Lee for Christmas in 2010. At that time there was rain, there were high tides and as a result St. Mark's Square was under 2 feet of water. Still we all ended up with new wellies and lovely memories. This time it was so different and the heat was the main hurdle, heat that seems to attract even more mosquitoes.

A word here about Dougal. He was a star. Totally out of his comfort zone he seemed to enjoy the ferry to St. Mark's and ambled around the place accepting the admiration of countless passers by.


The pictures below are of a typical "street scene" as a Gondolier negotiates a sharp turn into another "street". The other is of the famous Bridge of Sighs which, historically, ran between the Court House and the Prison where it is said condemned prisoners got their final view of Venice before meeting their fate. Hence the name of the bridge.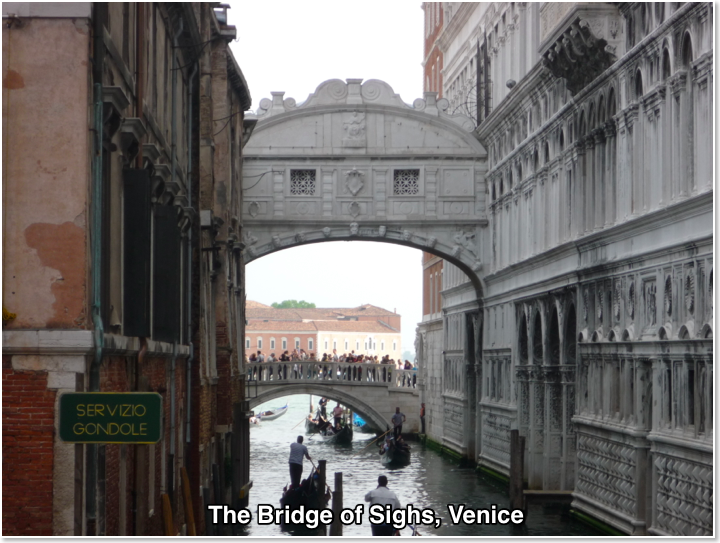 We have now been on the road for46 days. We've had rain, snow, sleet, mud and hail - but despite the dramatic weather, it has been wonderful. Most recently we've traveled a larger portion of Italy than we've done previously - it was captivating. We will return. Our last site in Italy was a campsite Frank found called Miramare near Venice - which I have to say was beautiful. Although we all suffered a bit due to Mosquitoes, (mostly poor Loretta, who is highly allergic) but we were able to take a water bus into Venice for a lovely, but exhausting day. Learn more about this site on Frank's prior post.

Slovenia. I am not sure I can explain what, if any, preconceived notions I had about this country. Geographically, I knew it was one of many small European countries, but if you had asked me to locate it on a blank map I doubt if I'd have come anywhere near its actual location. All that said, I was happily surprised to discover a beautiful country with rolling hills, well maintained roadways and friendly people. Now onto the campsite.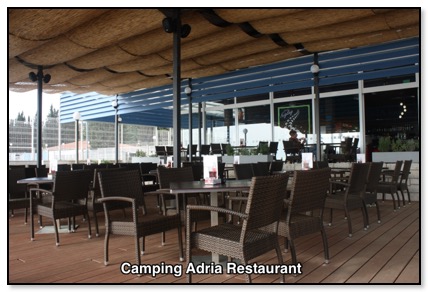 Firstly, let me say we have only seen one camp in Slovenia so it would hardly be fair to discount the whole of the country based upon a single experience. From that disclaimer you can probably tell I wasn't very impressed with Camping Adria, located in Ankaran, Slovenia. As we pulled into the camp we were struck by the number of seemingly, permanent residents. These "campers" had odd higgily-piggily set-ups that were quite unattractive, and seemed thrown together using any sort of disparate building supplies.

It is conceivable that these dwellings were not the owners full-time homes, and may have actually been their holiday homes - if that is the case, it would be just...sad. The second impression was of an inordinate number of dogs, most quite large and a few seemed identifiable as Pit-bull or Rottweilers. Bearing in mind we share our lives with a very cuddly and soft Shih Tzu, this was alarming.

I immediately told Frank we needed to keep Dougal on a lead to avoid his potential dismemberment. Seriously, there were large groups of these types of dogs EVERYWHERE. Our friends, Loretta and Gianni were just as dismayed, Loretta was once attacked on a campsite by a large dog so understandably was very uncomfortable.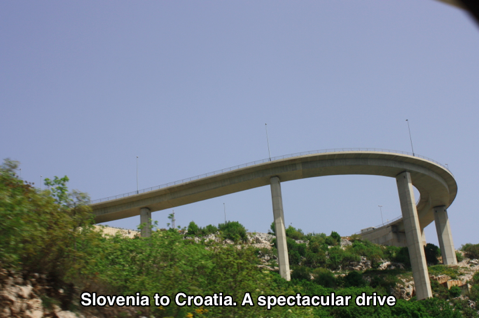 So, I recall talking with Loretta and I mentioned unless there is a dog show nearby, there was no excuse for a campsite allowing so many large, and potentially dangerous dogs on a public site. Guess what? Yeah, there was a dog show, and apparently, a world championship. Okay...now onto the better news. The restaurant and views of the Adriatic. Both impressive, and they served very refreshing Mojitos too! All in all, we would not return to the campsite, but it was somewhat redeemed by the outstanding views and nice meal.

The next day we were off bright and early to Croatia. This was our second trip to the country, but first to this part of this oddly shaped, but beautiful country. Frank had found a website that showed a lovely looking campsite on an island called, Krk. We have learned the websites that tout their own campsites are usually discovered to be not just as nice as their photos and descriptions would have you believe. Camping Pila, in Punat falls into that category.

Yes, it has its beauties; on the shore of a sheltered harbour and with a nice paved seaside path that goes quite a distance and to the large marina. Sadly the campsite is in dire need of upkeep and repair; weeds are high in spots, and shrubs could do with a trim. The market was described as being a full, and well stocked sort of place - but it too was found to be lacking when Frank and Gianni tried to buy supplies for a cookout. And again we saw disturbingly permanent looking camp-dwellings near us which could only be described as eyesores. However, with the disappointments we had a few nice surprises in the form of several walkable or cycle-able, cafes, pubs and restaurants. The harbour, although the view from our "premium" pitches is somewhat obscured by a high sea wall, is pretty, with ships and small sailing yachts gliding past constantly. All said, we are happy as the weather is warm (albeit a bit rainy at the moment) and we have the company of our good friends nearby. We plan on staying a week and happily are expecting Loretta and Gianni's son, David and his wife to join us for a couple of days! Should be very enjoyable!

Keeping the best till last. The view from our pitch at Camping Pila.


Sidebar
T