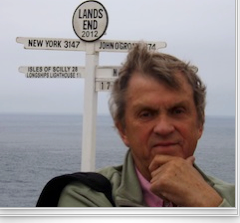 Here, there, everywhere and some other places too …
17/05/13 21:46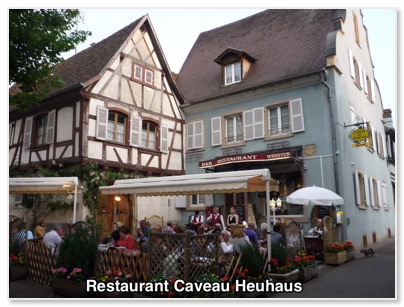 Wednesday, May 15, 2013 was special. Very special.


Actually, it all started a year ago when Nancy and I were travelling through Alsace on our way back to the Isle of Man following our motorhome trip to France and Switzerland. We had met a couple en route and, as usually happens, we exchanged opinions on the places we had been to and the sites we had visited. We mentioned that we intended travelling through Alsace and, in particular, visiting Colmar. I had never been but my late parents used to visit some friends and often enthused about it.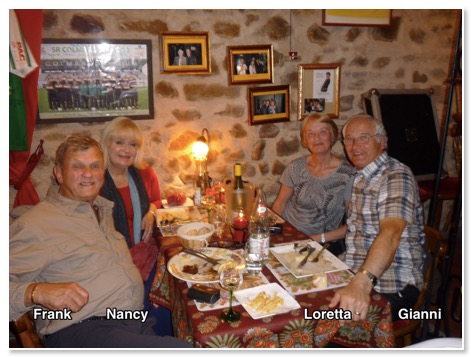 The couple suggested that we go to Equishiem and mentioned Camping des Trois Chateaux as a well placed campsite. We took their advice and spent a few days in what is a very enchanting region of France.

The town is simply beautiful and so full of atmosphere and I hope the earlier pictures give an indication of that. On our first stroll into Equishiem we passed a very pretty restaurant called Caveau Heuhaus (see picture). We decided to stop and have dinner and we sat outside. During the meal piano music started to drift through the air from inside the restaurant and we were very impressed because it was 60s and 70s classics and we knew every one. We passed on our compliments to the lady who was looking after our table and she told us that the pianist was from the area, retired and played for them once or twice a week. Turned out he was quite famous having been Chuck Berry's piano player for some 25 years.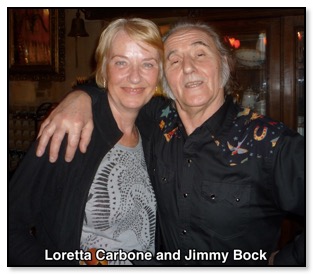 When we returned last Sunday we made a bee line for the restaurant to see if he was still around. There we met the same waitress and she confirmed the pianist was still playing and would be on Wednesday and Thursday of this week. As Wednesday was to be our last night with Loretta and Gianni we booked a table.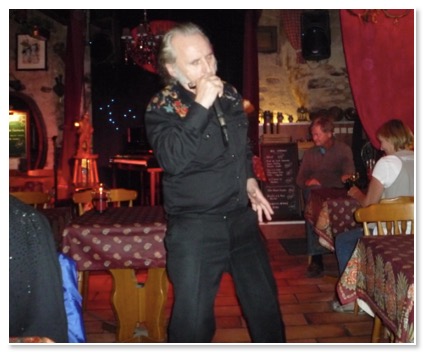 What happened last Wednesday was utterly fantastic. The food was wonderful and there was an abundance of asparagus dishes, the local speciality. We all settled for the cream of asparagus soup which was to die for. Different main courses followed and then on came Jimmy Bock. For the next two hours he captivated the diners and within no time at all people were up dancing and singing along. From piano playing to singing to harmonica playing and occasionally doing all three at the same time, honestly, it was simply fabulous and made for the most incredible night.

As we ambled back to the campsite the four of us chatted and agreed that it was truly a night to remember.

Google Jimmy Bock and see there are a number of Youtube videos.

If you ever find yourself in Alsace, check out the restaurant and if you get a chance to see Jimmy Bock grab it with both hands. As a piano player myself I have never seen anything quite like it. He is fantastic.

And finally...


16/05/13 19:59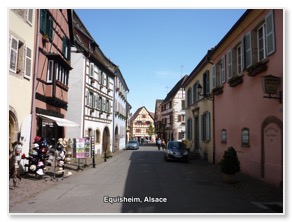 On Sunday, May 12, 2013 we had a reasonably early start as we left Camping Waldpark Hohenstadt en route to Alsace. This was our second time in the little town of Equishiem and we were really quite excited to be going back. I suppose returning to the scene of a prior enjoyable experience can be a bit risky as very often it doesn't measure up but, truthfully, I will never tire of Alsace. It is an incredibly beautiful part of the world and hopefully the pictures here will give you a bit of an idea of what it is like.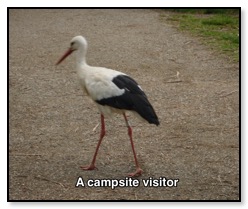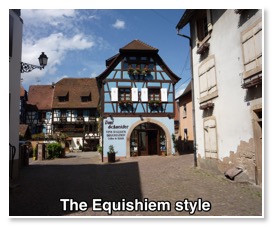 First of all, a few words about the campsite. It is called Camping des Trois Chateaux and it is a municipal site. It is not the best campsite you will ever stay at but it is certainly adequate and the facilities are impeccable. It seems to be a favourite stopping off point for German and Dutch people but the occasional GB can be spotted.

One of the features of this part of the world is the presence of storks. Just a few hundred meters from the campsite there is a stork farm and, apart from that, they seem to travel quite freely in the area as their nests can be seen on roof tops in the town and equishiem. Don't be surprised if one or two turn up on your doorstep in the campsite as they tend to visit regularly in search of the odd hand out from kindly travellers!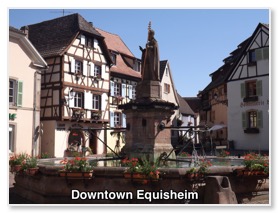 The town of Equishiem is known as "The cradle of the Alsatian vineyard" and for good reason. Local vineyards stretch for miles and many independent wine producers have their cellars in the little streets of the town. The blue building in the picture entitled "The Equishiem style" is one such example.



Sidebar
T