14/05/13 21:53
Today is Saturday, May 11, 2013 and we promised ourselves a reasonably early start as we head beyond Munich towards Alsace. In keeping with the previous 24 hours it poured and so packing up, never an experience to savour, became downright arduous. In fairness to Camping Harass our memories will be clouded by the awful weather but, it has to be said, the location is pretty special. Like so many sites these days, Harass has a "run down" feel to it but maybe I should be a bit more circumspect as torrential rain seldom makes anywhere look good. I would go back if I was in the area and that has to be the real test.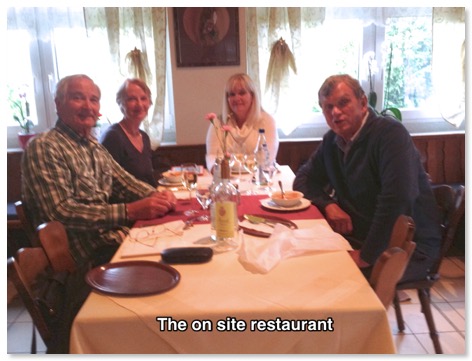 Because Alsace is over 300 miles away we are stopping off en route at a site called
Camping Waldpark Hohenstadt.
It is located just off the autobahn west of Munich and I had a good feeling about it following a telephone call to ensure availability. The owners are a delightful couple, Axel and Heike Rohm. In my phone call I found Heike to be so helpful and clearly willing to go that extra bit to ensure you are satisfied with her service. Interestingly she confirmed something we have noticed throughout this trip, namely, helpful and attentive staff are invariably a good indicator of the quality of the campsite.

When we arrived we were not disappointed. This is a rural site with no real views but the pitches were well looked after and the toilet facilities are exceptional. There is an onsite Italian restaurant and we spent a very pleasant couple of hours unwinding after a long drive. Speaking of which, we fully expected that it would be a reasonably comfortable journey, all motorway except for about 4 miles. What we got was a pain. The longest and largest road works I have ever seen. I am sure the construction, of what will be a superb new autobahn, lasted for about 40 miles and although my German is pretty non existent even I could read that it is scheduled to be completed late in 2015! So, there is a road to avoid for a while.
29/04/13 12:00
This is a "Good news…Bad news" item. Its about choosing a site so read on.

In this blog I have previously referred to the process of selecting sites. There are many considerations and many differing tastes. By and large we tend to end up on the type of sites we like. The location is checked out as carefully as possible on Google Earth and whatever reviews are available are fully digested. As the saying goes, it works for us, usually.

It is careful research that found us gems like La Bastide in Sainte-Foy la Grande, Camping Jungfrau in Switzerland, Lincoln Farm Park in Oxfordshire and our present stopover,
Camping Miramare
, on the tip of the peninsula overlooking Venice. A beautiful site and facilities which are second to none, add to that a restaurant just 50 paces from the front gate where we had possibly our best meal to date and you get a very high scoring site to which we will always return if we are anywhere near. Needless to say it has its downsides but I can think of only one. It is beside the sea but has no sea views and that is it. Weigh that against, lovely staff, superb toilet facilities, the best dog facility I have ever come across, beautiful spacious pitches and a brilliant little supermarket and suddenly sea views aren't that important. By the way I didn't mention Wi Fi which is superb and costs only €5 for however long you stay, and my satellite TV works! A fabulous site if ever there was one.
Click here to visit its website
.

That is the good news and I want to take some time to talk about the bad news which comes in the form of a disastrous site selection at Lake Garda the day before yesterday. There is a background which I want to explain in some detail.

You will have gathered from our blog entries that we found a delightful site on the Ligurian Coast line called Camping Smeraldo. Its entry, through a tunnel was almost magical and you felt, with the majestic views, that you were in a special place. Well, all good things must come to an end and we decided that Saturday was the best day to travel as the weather changed rather dramatically and sunshine gave way to heavy rain.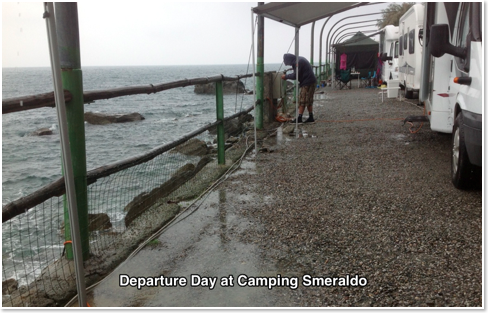 Our trail was heading north west so after careful consideration we decided to head for the Lake Garda area, a drive of 181 miles but mostly on motorways.

Any cursory glance at a map of Lake Garda will tell you that there are hundreds of sites to choose from so here a research system was important. Our first point of interest was to find something towards the South end of the lake so that our onward route to Venice would be easiest. Some weeks ago I posed a question on the
Motorhomefun forum
(one of my favourite sources of chit chat and tips). The question asked if anyone had recommendations for sites for the area. I got a number of replies but one campsite name came up twice. Camp Butterfly. I followed this up with a phone call to check for availability and to ensure that there was wi fi available throughout the site. The answer was an emphatic "yes" to both. Let me make it clear at this point that I can well understand that people come to this site and enjoy it but for us it was our single worst experience in years.

Trying to be as balanced as I possibly can be I must say that the site is mis managed, fronted by staff who clearly cannot cope and worse, who are oblivious to the needs of the many visitors the location of their site attracts. The notion that the customers needs are important is absolutely irrelevant here. Allow me to explain.

1 When we arrived we drew up into a narrow entrance where there was a queue of people waiting to register, no problem with that. They were being attended by one staff member yet I counted 4 inside the office. The registration process was painful and I watched almost every single customer getting angry. The lady dealing with all of this was Rebecca, who within my hearing said to at least 3 different customers, "There are plenty of sites, you don't have to stay here". In time she was to say exactly the same thing to me.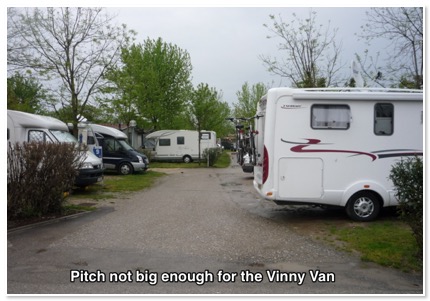 2 I was standing with Gianni, who is native Italian so we could make the registration as smooth as possible. It took 10 minutes to register both of us, a process at any other camp would take less than half that. Still the extra heads in the reception area contributed nothing that we could see. At Last, we are allocated our pitches and off we go. Our first big problem. They are occupied. We selected two empty pitches close by and tried to squeeze our vehicles into them. Add to all this it had been raining heavily (not their fault) and the site was muddy and wet. Very unpleasant conditions.

3 On the plus side we were near to the toilet block which, I must say, was well maintained and very clean.

4 Close by was a restaurant which seemed to be owned by an external organisation. It was truly excellent and we drowned our sorrows in style in the only pleasantly memorable part of our stay.

5 I have saved the worst to last. Wi Fi. I have commented before on different attitudes to the Internet from site to site, some are superb and some just don't have it. What I have never come across is the abject stupidity that Camp Butterfly demonstrate. They have a sign which says that you can only buy a subscription on a Saturday between 7:00pm and 9:00pm.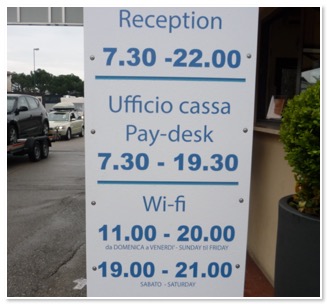 I returned at 6:30pm to see if I could buy a login as I had a commitment to pursue on Skype. "No", was the answer, "Not until 7:00pm." I showed my Press Card and asked if they could make an exception to facilitate me. No, said the same Rebecca. I asked why they were so unbending with their rules and what she said really surprised me. "Our boss says we cannot take money for the Internet until 7:00pm because we are so busy" I asked if I could talk to the boss? "No, the rules are there. It has to be 7:00pm" I should point out that it is now 6:45pm and there is no one else in the queue and, I would have thought, it was obvious that they were headed towards a public relations disaster. Totally unmoved I got my marching orders until 7:00pm.

I asked again about the Boss and was met with blank stares. Now if you think that was an end to it, read on.

I returned at 7:00pm to find a long queue of people waiting to get login subscriptions. When it came to my turn I explained I wanted separate subscriptions, one for me, one for Nancy and one for Gianni and Loretta. "Can I see your passport please?" For the internet?? They had previously seen and copied my passport during the registration process (and all the others as well). My passport was back in the van so I showed them my Press Card, full picture ID. I pointed out that they had already everyones passport details but alas this wasn't acceptable. By this stage this was unbearably stupid. This was an INTERNET connection we were trying to buy. Nancy arrived, showed her driving licence and that was it completed. Never have I ever come across a location where you have to produce a passport to sign onto an Internet connection.

Any idiot who knows anything about the Internet will know that the more people who use it the slower it will get. If you have a local network and you "herd" the users to all buy their connection at the same time the system becomes overloaded and, as in this case, becomes unusable. Guess what? It was unusable. I was unable to work and so we all moved to the site restaurant where we had a lovely meal. The only positive I have for this site.

To the Boss, if I had a chance to meet him I would say. You are blessed in the location of your site. Sadly you take advantage of your visitors in the organisation of your reception and the skimpiness of your pitches. Your staff hide behind your "rules" which, in the case of the wi fi, causes your system to become overloaded. That sir or madam is simple stupidity. This is not just one disgruntled customer. I saw many who complained about having to stand in the rain to buy an Internet connection. Charging people €2 an hour to use the Internet which is now the vehicle for people to work and keep contact with their families is unconscionable; to organise it in such a way as to put a strain on the resource to the point that it doesn't work is, in my humble opinion, "virtually" dishonest.

The following day we left and headed for Venice. Before departure I brought my complaint to the reception. The Internet didn't work. Rebecca threw €20 on the desk, "Here is your money back" in the most ungracious gesture imaginable.

So Boss, why not write to me and tell me anything that could explain away such a dire experience.

And to bring us right up to date…faith restored!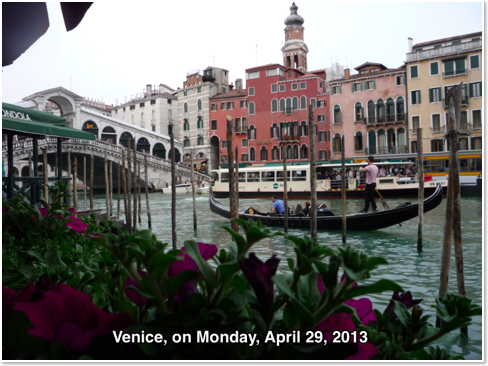 02/04/13 09:10
Settled at Camping*** de la Bastide at Sainte-Foy-la Grande on the bank of the River Dordogne. The pictures over the next week will speak for themselves but this is, indeed, one of our very favourite sites. It is small, neat and is owned by a delightful UK couple Bob and Brenda together with their son Peter and his son, Daniel who we have watched grow into a a fun young man over the past few years.

I love the area and we will stay here for about a week.

Time now to talk about the travel over the past few days. When we left the Ile de Re our route took us due south and was planned by the satnav so apart rom the odd 20 mile needed to get off the Island it was pretty much all motorway all the way to Bordeaux. Many people travelling like us seek to avoid the motorways and I entirely accept the fact that it is altogether more interesting to take the lesser roads getting the full value of the French experience. That is my own preference unless of course I have a deadline as was the case heading to Bordeaux. That, however, is not to say that the motorways are boring and unattractive, far from it. The drive was interesting as we spent a considerable time in vineyard country and passed through many different regions that tell their own story, Cognac to mention only one.

Then the approach to Bordeaux is interesting as you pass over the Dordogne and the Gironde as they finally make their journey to the sea. All in all an interesting drive.

Then onto yesterdays trip from Bordeaux to Sainte -Foy La Grande.

Once again we crossed the rivers and were able to make a speedy retreat from Bordeaux and were on the motorways in no time. The trip was a beautiful variation of villages and vineyards by the hundreds and in just over an hour we were entering Sainte-Foy La Grande and our first stop was the major supermarket on the edge of the town where we stocked up and got ready for a nice long resting process.

Setting up at the site was very straightforward…Everything is on hand, water, electricity and drainage all within about 20 feet of the river Dordogne.

For the first time this trip we took out the awning, table and chairs and of course the blue lounger that a certain person has long since claimed as "His Chair". Well, who am I to argue?
27/03/13 15:19
One of the most infuriating things about my Mac computer is its insistence on correcting my spelling whether I want it to or not. Auto correct is the bane of many a life, and it is very easy to miss every now and then.

Just recently I was exchanging some chit chat with a friend in Arizona. We were talking about, inter alia, Guernsey. I was about to send him an e-mail when I noticed that instead of a Channel Island I was now referring to Gurney an English poet and composer who fought on the Western Front during the First World War
or
an American term for a type of stretcher used in modern hospitals and ambulances. I am not alone in my frustration as you will find if you Google "auto correct". Some outcomes are hilarious but others can be a mite embarrassing. Thats the background and my reality earlier was a bit of both.

Over the past few days we have enjoyed the features of Camping Haliotis here in Pontorson. It is a fabulous campsite, and very nearly fell foul of the dreaded "auto correct". I noticed that it had decided to rename it…Camping Halitosis!There is a difference!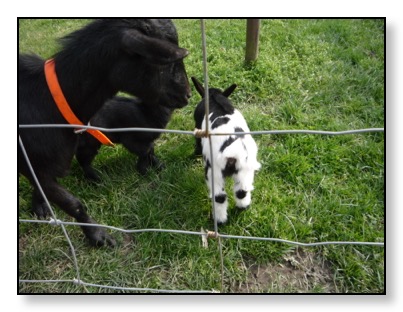 Mont-Saint-Michele being the incredible tourist attraction that it is attracts tourists in their millions. So, it's not surprising that there is no shortage of campsites, and I have spent a fair amount of time over the past few years researching them. We came across Camping Haliotis about 3 years ago and have been back a few times. It has quickly become one of our favourites because of a relatively unique feature mentioned a few days ago in the blog…Pitches with their own bathroom. But it doesn't stop there.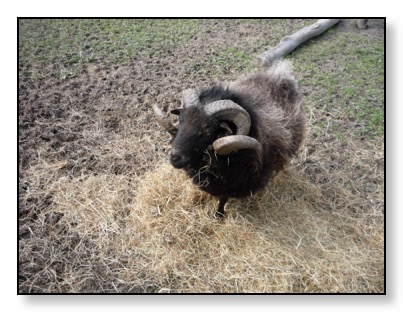 The site is on the edge of Pontorson, a small town just a few miles away from Mont-Saint-Michel, well endowed with restaurants and a substantial supermarket. It is flat and has a concentration on animals with a small petting farm and lots of horses in surrounding fields. The staff are delightful and have been fantastically helpful.

Bearing in mind that the season is just beginning and the weather has been less than inviting I have to say this site is the one to visit if you happen to be in this area. So a special thank you to Gerald, Sabine and Alicia for their kindness.

Tomorrow it is time to continue our travels in the direction of Bordeaux.




19/03/13 11:36
There are so many advantages to touring by motorhome that sometimes you can be blinded to the downside. Yesterday was something of an ordeal, an early start, a four hour boat trip followed by a drive of over 200 miles to get to Lincoln Farm Park in Oxfordshire. The end result was that I ended up feeling a little wobbly which led me to feel that perhaps I was working my way through one of those viruses that are on the go and that everybody else seems to have had, of late. I suspected something was not quite right when I didn't feel inclined to eat bearing in mind that right next to the campsite is the Black Horse pub, one of my favourite restaurants!

Anyway the following morning (today) we left headed towards Surrey and the
Alderstead Heath Caravan Club site
which I had long wanted to explore. The trip was uneventful, just over 80 miles leading onto the M25 which is often referred to as the world's largest car park. It doesn't take you long to figure out that's not a bad description!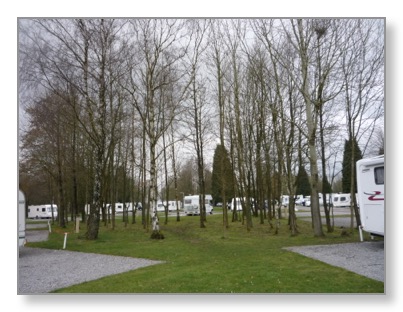 The site is just a few miles off the motorway making it an ideal stopping off point if you are heading north or south. A beautiful rural setting; hard to believe you are so close to the bustle of London. One thing about
the Caravan Club
is its level of consistency. You always know what you are going to get and are seldom disappointed. Of course the staffing invariably adds to the quality of the site and I have to say the wardens here are top-notch. We were greeted by Linda, very jovial and extremely helpful. She shares the warden duties with her husband Ron, also attentive and thoughtful. Later in the day when Linda learned that I wasn't feeling 100% she was attentive in the extreme. This is a site I will come back to.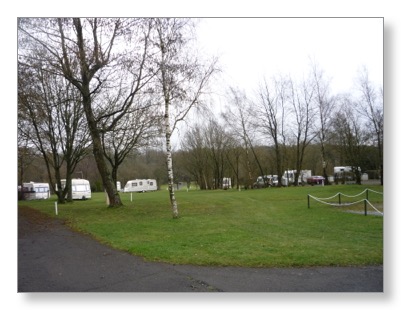 Weather-wise it still on the cold side but, at least, the sun is shining and we seem to have avoided the miserable snow and frost that so many parts of the UK seem to be complaining about right now.

Our trip from Oxfordshire to Redhill (near London), was uneventful and quick. The day continued to be rainy and cold, but the bigger issue became Frank's health. He simply wasn't the jovial, happy camper, he ordinarily is on these trips. As our plans were to take the Eurotunnel into France tomorrow, this became a critical problem, so Frank spoke with a doctor. After some probing questions, it was concluded he probably has a virus of some kind.


Tuesday:
This morning he feels considerably better, and was able, in typical Frank fashion, to eat a hearty breakfast.

We've put our plans back one day, and will stay over in this campsite another night to give him time to feel better still, and if he is back to his annoyingly chipper self tomorrow; we'll be in France sometime Wednesday! So today is a relaxing day, and I'll get back to editing my book! Cheers!

16/03/13 10:58
So far an interesting day…Read on.

We are still on the Isle of Man, exercising the option to wait until tomorrow. I think there was just too much exertion yesterday coupled with too little sleep. As a result I felt quite unwell at departure time and common sense dictated that we rest up for a day and do it tomorrow.

Unwittingly we learned a very interesting lesson which people should take note of.

Firstly, what would the cost be for putting everything back by 24 hours? Well, we were unable to get in touch with the Steam Packet company to cancel till 9:00am, one hour after the boar had already sailed, and to my immense surprise there was not a single problem…They switched everything over to tomorrow's sailing and the cost? Nothing at all. So well done the Steam Packet Company.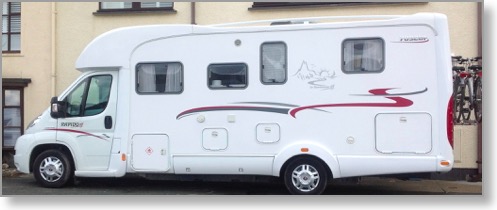 Next phone call was to the Plassey leisure Park neat Wrexham. We were booked to stay there for tonight. Not so lucky this time They read me the rules and I forfeit my £19:00 fee. There was no compromise. What they don't need to do is lecture you on the need to have adequate insurance cover to manage the cost of cancellations. Do they really think someone would make an insurance claim for £19:00? So a bad taste from a site which I have visited many times and recommended many times. My view? Bad public relations even though they were well within their rights. Can't see us going back.


"Day 1 of our 2013 motorhome adventure got off to an alarming start. We were up early, and began preparations to leave our home at 6:45a.m. to catch the ferry which was departing at 8:00. Frank had a few last minute details to deal with on the motorhome, and I was upstairs finishing the few things I had remaining as well before leaving. Frank came upstairs and laid back down on the bed...which for those of you who know Frank, is very unusual. He was excited about beginning our journey and so the fact that he needed to lay down was worrying. Good sense dictated we wait and soon made a decision to put everything back for a day.

Frank has mentioned the Steam Packet Company, kudos to them, no extra charges for tomorrow's crossing. As a side-note, we had to cancel one of our long-time favourite campsites; Plassey near Wrexham, Wales and were shocked to learn, even in the event of a health scare, they would not refund our £19. Frank was very polite, and explained, in detail the circumstance of our cancelation, the receptionist's response was very businesslike, and even though we've stayed with them many times, did not offer even the most cursory comment regarding his health, instead commenting that everyone should have good insurance cover for cancellations!
Obviously no one would make an insurance claim for £19, and if they did their increased premiums would more than make up for any advantage such a claim might have given them. Needless to say, we are both surprised at the cold attitude of the receptionist, as well as the companies' policy - we will not be returning"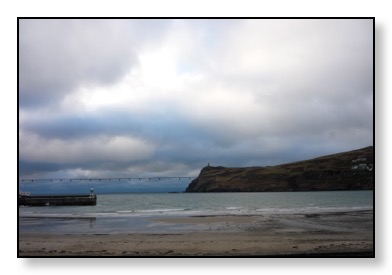 Everything is prepared, the Van is as ready as it has ever been. We have checked all the systems and they seem to be functioning properly.

So today is a bit of a bonus in that all the work is done and some good rest is now available and we will capitalise on that!

So this is the view of Port Erin that we are leaving behind tomorrow morning. No matter where we travel, home is hard to beat.