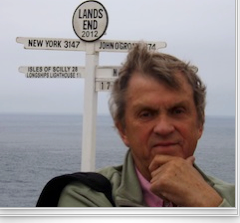 Here, there, everywhere and some other places too …
25/04/13 03:36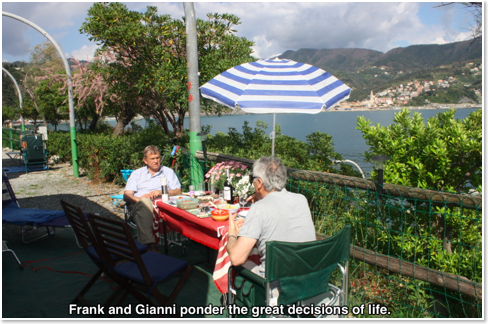 There are times, albeit not as often as we'd like, where there comes a 'perfect storm' sort of campsite. What does perfection consist of you ask? In order of preference, such a place would have to be; scenic (magnificent views) with photo opportunities galore, temperate climate - hopefully with little or no rain, wifi...because we just need it, and if the satellite finds its homing beacon and Sky sends us a little love from the UK; our world is complete. Add to that heady mix, the company of wonderful friends (Loretta and Gianni) and you have a place that will be difficult for us to leave. So...we found such a place in Moneglia, Italy on the Italian Rivera. Breathtaking doesn't do it justice...and there is a restaurant, which makes it even more compelling to those of us who would prefer little of no cooking on a holiday.

Dougal likes it too - he's had two meals of spagetti and will doubtless have another this evening.

It has been decided as the weather is due to take a turn by Friday, that we'll move on then. No worries as who knows what other gems may await us at our next destination, which I am reliably informed is Lake Garda. More to come!


24/04/13 12:34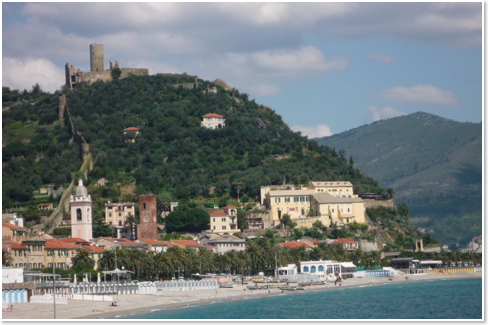 I really don't know where to begin this. It is astonishing how things pan out and in all my days, months and years of motorhoming I have never had an experience like yesterday. By the way, this picture was typical of the sights en route to our destination.


Let me set the scene a little.


Those of you who have been following our adventures will know that we moved from the French Riviera at Port Grimaud into North Western Italy two days ago. We were having a rendezvous with Loretta and Gianni Carbone, two good friends who are, like ourselves, meandering across these countries in search of the unexpected. We met at Camping Delfino just a few kilometres from the beautiful town of Alassio which will feature on our Photo Gallery Page. As always happens when we get together there was good food, good wine and good craic!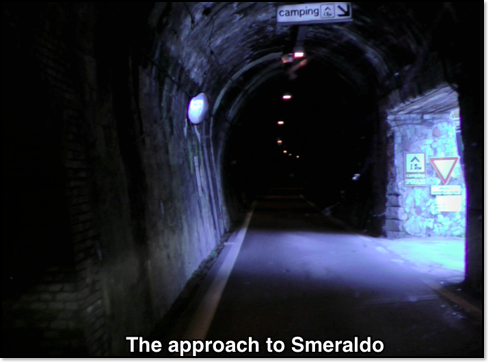 There is always one question that gets asked sooner or later, depending on how much we are enjoying the site.


"Where do we go to next?"

The process of selecting that location is diverse…Research, books, Google Earth, recommendation or a combination of all of those. Problem is that different people have different tastes so what appeals to me might not be your cup of tea.

This time the decision had already been made before we ever got to Delfino! Gianni, as is his wont, had been wandering about the campsite chatting to all the other campers and sharing experiences…He really is a friendly fellow. In the process he met an older couple from Switzerland and he asked where they had been and was there anywhere they would recommend. They had been past Genoa and stayed near a small town called Moneglia still in the Liguria region. The site was called Camping Smeraldo.


Now, being wary of recommendations in general, I set about researching this site and although it has its own Web site I found very little other reference to it. My old faithful technique of loading up Google Earth, zooming in to the town of Moneglia and searching for local campsites produced results for about 10 campsites in the area but no mention of Smeraldo. That was indeed surprising.

I went onto the Web site for the camp to see if I could locate the coordinates but they were not mentioned. Just a post code. I keyed the post code into Google Earth but that only took me to the centre of Moneglia. By this stage I didn't know what to think so we agreed that Gianni should call the site to make sure there was availability and to ask them for the coordinates for the satnav.

Answer one. "Yes. Plenty of availability." Answer two, "The coordinates don't work because of the tunnel, by the way how big is your van?"

By this stage it was becoming a bit of an adventure but we had the recommendations of the Swiss couple who reaffirmed that the place was "Lovely".

And so yesterday morning we set off to travel the 90 miles along the coast to find Smeraldo.

The journey was utterly breathtaking and rewarding in its own right. Viaducts a plenty, tunnels by the dozen and views that, sadly, I don't have the words for.

The descent into Moneglia was a bit challenging but that was nothing compared to the views.

The little town was delightful as we relied on Archie's Europe on the satnav to guide us to where it believed the site was. Smeraldo had now taken on the character of Shangri La!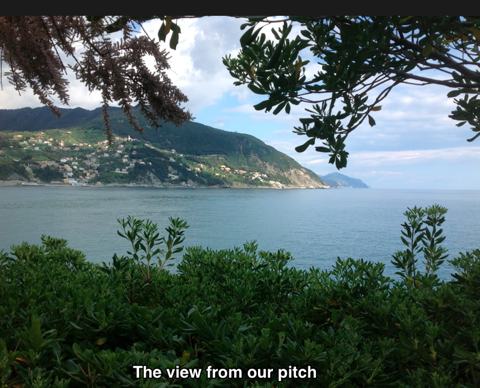 As we left the town we were confronted by something of a mountain! With a tunnel! Bedecked with signs telling you how little room there was either in height or width we calculated we could just about get through. Let me tell you at this point that this was an old railway tunnel that bored straight through the mountain and it lasted for several kilometres. An intricate traffic light system made sure that you didn't meet anyone coming in the opposite direction. At this point I expect you think that we drove through the tunnel and out the other side to find our campsite. Well, tough you are wrong! Half way through the tunnel there was what can only be described as a hole in the wall through which we had barely enough room to turn and lo we had arrived at Smeraldo.

Everything about the place is breathtaking. There is a small intimate restaurant which is fabulous and, in all honesty, I have never had a better motorhoming experience. Neither have the others.

If you are thinking about travelling in Italy just come here. It will take your breath away, and, it has got very good wi fi!

If you are thinking you would like to zoom in on Google Earth just put the coordinates into the search bar. They are.
44.237058, 9.476463


Life is good. Even Dougal decided the view was worth a pose! Judge for yourself.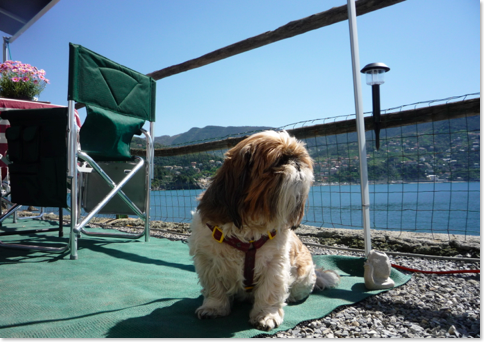 22/04/13 11:23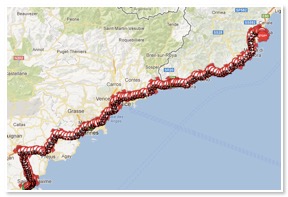 A drive of 134 miles took us from Port Grimaud on the French Riviera into the NW coastal region of Liguria in Italy. A spectacular drive with countless tunnels and viaducts and no shortage of stunning views.

But before we start contemplating the joys of Italy some thoughts on the past few days in Port Grimaud. Last night was another visit to the camp restaurant where we enjoyed a very pleasant meal. None more so than Mr Dougal who charmed our favourite waitress, Miriam, to such a degree that he got his own special desert of vanilla ice cream.

We all like surprises but I think you can work out that he was very pleasantly moved when it arrived in front of him!

So a very pleasant stay near St Tropez but time to move on and our next stop is a rendezvous with our friends Loretta and Gianni Carbone. They were staying at Camping Delfino just 3 kilometres from the Liguria town of Alassio in a quite unusual site. The picture shows the layout with structures in place to enable you to control how much shade you would like to have. I have never come across this before and I am not too sure as to the effect as we are currently off season so its hard to get a perspective with so few customers. They do, however, seem to cater for large numbers of people who keep their vehicles here permanently.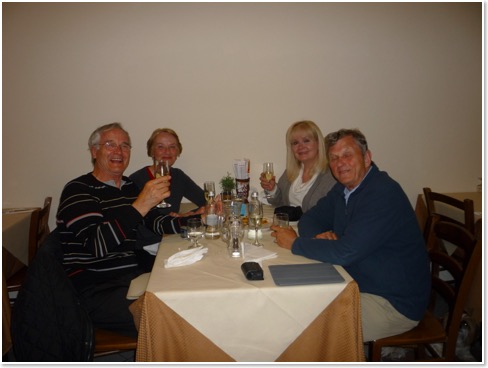 The site is very typical of Italian sites, family run and so friendly and helpful. The restaurant was a big hit with us and a big benefit to us was having Gianni who just loves to keep us right on the intricacies of the Italian kitchen. A proud Italian if ever there was one!

There were, however, some downsides. Firstly, the weather took a turn for the worse and it rained all night long. Not nice. Secondly there is no internet. Or should I say there is no Internet that works!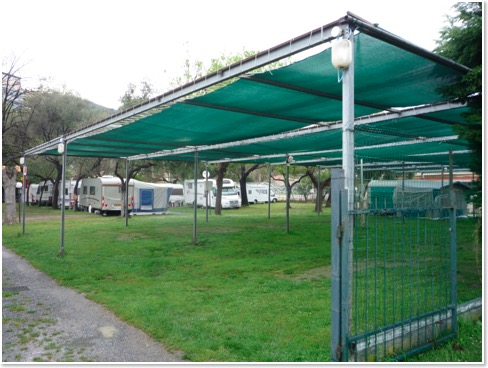 Sidebar
T