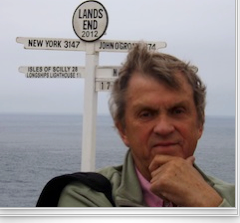 Here, there, everywhere and some other places too …
30/03/13 13:08
Pitch number 9C at Camping du Soleil is on the extremity of the site and is peaceful and adjacent to all amenities. The sad part for us is the weather. It poured during the night and although today is dry it is far from the sunny location we knew when we were here last time.

Last night we went to the little cafe/restaurant on the site where the food was very enjoyable, typically french. But we still managed to create some more drama. As always Dougal accompanied us to the restaurant and sampled what was on offer. To our surprise he seemed very partial to Nancy's Moules (Clams). We didn't realise that was a mistake. Today he has had an allergic reaction necessitating a telephone chat with his vet in Port Erin. He is now on some medication and we hope it will pass soon.

This site is right on the edge of Ars-en-Re, a pretty village at the Atlantic end of the Island. Today is market day although we didn't get explore it.

Enjoy the pictures.
Sidebar
T