The Joys of Motorhoming!

So we finally made our departure from Camping Haliotis but not without our little piece of drama…You guessed it, more mud. Our wheels sunk into the grassy pitch and a tractor was on hand to haul us out. Once again the staff were fabulous and in no time at all we were back on terra firma and ready to roll.

The day was always going to be one where we simply did a lot of driving to get further down towards Bordeaux where we have to deliver Ji Hye for Sunday.

As things turned out it was a lovely drive, a mixture of motorways and National Routes with very little traffic and some special scenery. We crossed over the Loire and that brought back a memory or two.

Our target was a site which gets good reviews and is in the Vendee. It is called Camping le Rouge Gorge In Pays de la Loire and is another friendly and helpful site which is very quiet at this time because the season hasn't quite started.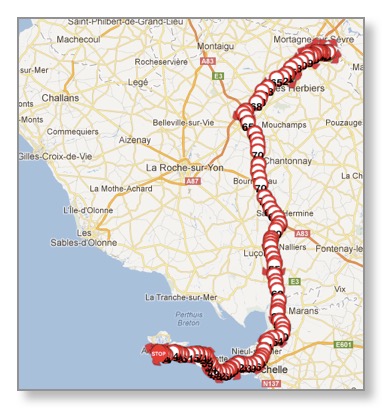 True to form we managed our own little drama. As we settled down to dinner I decided that the Van needed a bit of heat but for some reason the heating controls were unresponsive and, to put it mildly, were as dead as a doornail! We looked at all the logical explanations and found no answer. Calls were made to my mate, Geoff Masden, my "go-to" man in these matters but we all drew blanks. So an early night was called for, a good sleep followed and when we woke up there was good news and bad news.

The good news? Well, the heating controls were now working perfectly. The bad news? The place was covered in snow!

Now the van is heated to a nice toasty warm and the snow seems to be dispersing and we are preparing for a drive down to La Rochelle and the Ile de Re.

An uneventful drive totalling 89 miles gets us to Ars-en-Re. The weather was downcast and misty which was such a pity as the drive from the mainland onto the Ile de Re, across the bridge was just shrouded in mist. Hopefully it will be a bit better when we head to Bordeaux on Sunday. The route today is shown in the picture.
One of the most infuriating things about my Mac computer is its insistence on correcting my spelling whether I want it to or not. Auto correct is the bane of many a life, and it is very easy to miss every now and then.

Just recently I was exchanging some chit chat with a friend in Arizona. We were talking about, inter alia, Guernsey. I was about to send him an e-mail when I noticed that instead of a Channel Island I was now referring to Gurney an English poet and composer who fought on the Western Front during the First World War
or
an American term for a type of stretcher used in modern hospitals and ambulances. I am not alone in my frustration as you will find if you Google "auto correct". Some outcomes are hilarious but others can be a mite embarrassing. Thats the background and my reality earlier was a bit of both.

Over the past few days we have enjoyed the features of Camping Haliotis here in Pontorson. It is a fabulous campsite, and very nearly fell foul of the dreaded "auto correct". I noticed that it had decided to rename it…Camping Halitosis!There is a difference!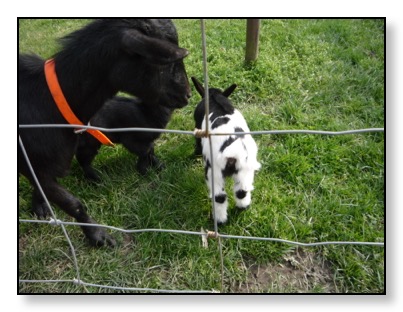 Mont-Saint-Michele being the incredible tourist attraction that it is attracts tourists in their millions. So, it's not surprising that there is no shortage of campsites, and I have spent a fair amount of time over the past few years researching them. We came across Camping Haliotis about 3 years ago and have been back a few times. It has quickly become one of our favourites because of a relatively unique feature mentioned a few days ago in the blog…Pitches with their own bathroom. But it doesn't stop there.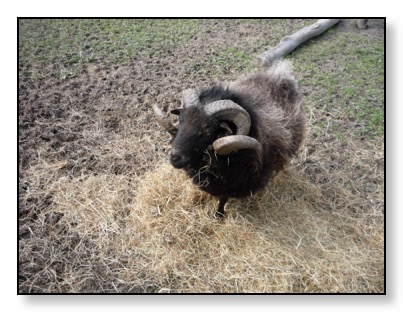 The site is on the edge of Pontorson, a small town just a few miles away from Mont-Saint-Michel, well endowed with restaurants and a substantial supermarket. It is flat and has a concentration on animals with a small petting farm and lots of horses in surrounding fields. The staff are delightful and have been fantastically helpful.

Bearing in mind that the season is just beginning and the weather has been less than inviting I have to say this site is the one to visit if you happen to be in this area. So a special thank you to Gerald, Sabine and Alicia for their kindness.

Tomorrow it is time to continue our travels in the direction of Bordeaux.




A great attraction of the motor-homing way of life is that you can decide to change your mind at the last minute if the mood takes you. A few years ago we were heading down the East side of France intending to cut across to the Dordogne. As we sped down the motor way I saw an intersection approach which told me that Geneva in Switzerland was jut some 60 kilometres away. On the spot I turned left instead of right and as a result had an entirely different holiday. Well, I feel a bit like that today. We love this site, Camp Haliotis near Mont-Saint-Michel. It has its own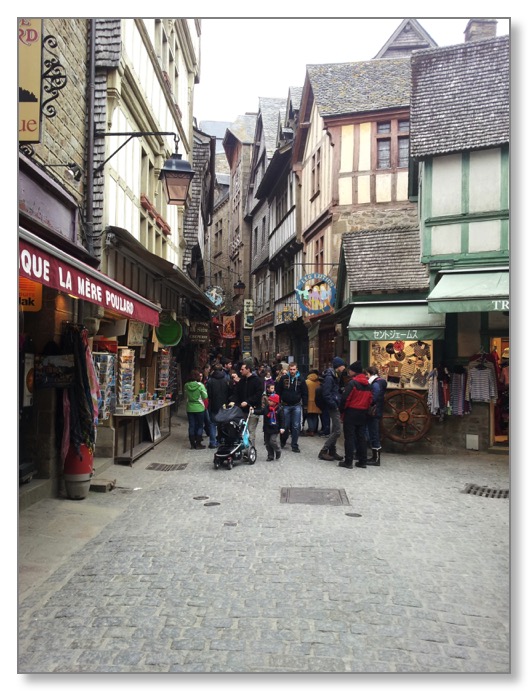 bathroom on the pitch as I described
a few days ago and everything is very convenient.

As we transport Ji Hye to Bordeaux we have been interested to show her a lot of rural France and sample local specialities as we go,

While we are being spared the rigours of the weather in the UK and Ireland nonetheless it is quite cold in the evening and the Vinny Van is very snug and there are no shortage of good TV and movies to watch.


One feature of French life we are looking out for is the French Market. We love wandering through streets looking at all the stalls and sampling the goodies on display. Dougal loves it too as, invariably, he becomes the centre of attention and he knows how to perform for the masses!

So, today is Tuesday and it was our intention to move south but as there is a market in Pontorson tomorrow we decided to wait over in case we don't get to see another before we drop Ji Hye off in Bordeaux on Sunday. Then on Thursday we will have 3 full days to get to Bordeaux and possibly even stop off at La Rochelle on the way.

Yesterday was dry and very very cold. We made our way over to Mont-Saint-Michele which has altered considerably from prior visits. The whole approach is closed and road works are all over the place…Parking is about a mile away and overall it detracts from the experience. Still Ji Hye got these photos. One outside and one inside Mont-Saint-Michele
19/03/13 12:57 Filed in:
Wi Fi
| Campsites
| Communications
Today is a day spent relaxing, chilling out and catching up on emails and such like.

It's also a day for using the Internet to look up sites I may well want to visit in the coming days which leads me to express some views about sites and the Internet in general. I feel quite strongly about this.


Firstly it is inevitable, in due course, that the Internet will be available and free in years to come. In many places it is already but there are some who still seek to capitalise by charging through the nose for the service. I am speaking particularly about sites that sell access to the Internet for a single device and nothing else.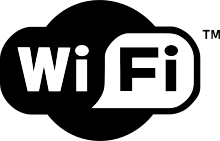 With the speed of evolution of technology it is commonplace for people such as ourselves to have more than one device. People have iPads, iPods, blackberries and computers because the nature of communication has changed so dramatically in the last few years. It's now a struggle to keep up. What this means is that when you go to one of those sites that sells single device access you end up paying twice or three times the price depending on the number of devices you happen to have in your motorhome or caravan. The Caravan club is one of the better organisations in that you can buy a subscription which gives you a password which you can then use on any of its sites throughout the country, or at least most of them. The subscription is not device specific and the quality of the Internet connection is usually excellent.

Remembering that communication has changed dramatically in recent years people now rely on their computer or iPad for not just emails but Skype and other forms of communication to keep in touch. I think, therefore, that sites should be attracting visitors by offering free Internet connection instead of taking advantage by charging over and over for the same service. I have to say that this attitude to Wi-Fi is fast becoming one of the main considerations I use when deciding whether or not to visit a particular site.

If anyone has any thoughts on this subject please feel free to
go to my contact page
and let me know. I am keen to get other views and ideas.

Taken it easy today gives me an opportunity to look back over some sites that I've used over the years and if you're travelling into southern Europe make sure you note
Dianne Thompson's pages, the joys of caravanning
, which are very helpful and worth a visit.
19/03/13 11:36 Filed in:
Caravan Club
| Site review
| London
There are so many advantages to touring by motorhome that sometimes you can be blinded to the downside. Yesterday was something of an ordeal, an early start, a four hour boat trip followed by a drive of over 200 miles to get to Lincoln Farm Park in Oxfordshire. The end result was that I ended up feeling a little wobbly which led me to feel that perhaps I was working my way through one of those viruses that are on the go and that everybody else seems to have had, of late. I suspected something was not quite right when I didn't feel inclined to eat bearing in mind that right next to the campsite is the Black Horse pub, one of my favourite restaurants!

Anyway the following morning (today) we left headed towards Surrey and the
Alderstead Heath Caravan Club site
which I had long wanted to explore. The trip was uneventful, just over 80 miles leading onto the M25 which is often referred to as the world's largest car park. It doesn't take you long to figure out that's not a bad description!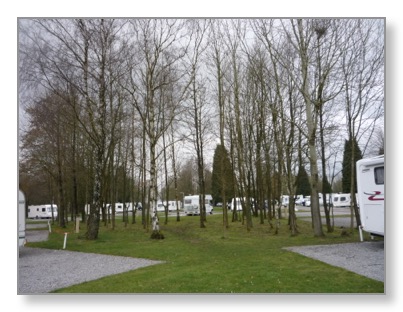 The site is just a few miles off the motorway making it an ideal stopping off point if you are heading north or south. A beautiful rural setting; hard to believe you are so close to the bustle of London. One thing about
the Caravan Club
is its level of consistency. You always know what you are going to get and are seldom disappointed. Of course the staffing invariably adds to the quality of the site and I have to say the wardens here are top-notch. We were greeted by Linda, very jovial and extremely helpful. She shares the warden duties with her husband Ron, also attentive and thoughtful. Later in the day when Linda learned that I wasn't feeling 100% she was attentive in the extreme. This is a site I will come back to.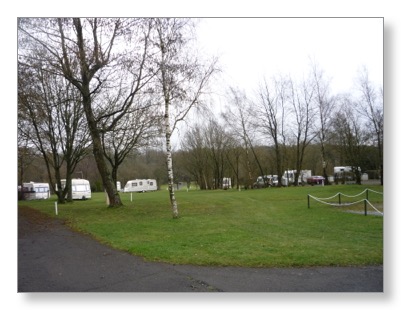 Weather-wise it still on the cold side but, at least, the sun is shining and we seem to have avoided the miserable snow and frost that so many parts of the UK seem to be complaining about right now.

Our trip from Oxfordshire to Redhill (near London), was uneventful and quick. The day continued to be rainy and cold, but the bigger issue became Frank's health. He simply wasn't the jovial, happy camper, he ordinarily is on these trips. As our plans were to take the Eurotunnel into France tomorrow, this became a critical problem, so Frank spoke with a doctor. After some probing questions, it was concluded he probably has a virus of some kind.


Tuesday:
This morning he feels considerably better, and was able, in typical Frank fashion, to eat a hearty breakfast.

We've put our plans back one day, and will stay over in this campsite another night to give him time to feel better still, and if he is back to his annoyingly chipper self tomorrow; we'll be in France sometime Wednesday! So today is a relaxing day, and I'll get back to editing my book! Cheers!

So far an interesting day…Read on.

We are still on the Isle of Man, exercising the option to wait until tomorrow. I think there was just too much exertion yesterday coupled with too little sleep. As a result I felt quite unwell at departure time and common sense dictated that we rest up for a day and do it tomorrow.

Unwittingly we learned a very interesting lesson which people should take note of.

Firstly, what would the cost be for putting everything back by 24 hours? Well, we were unable to get in touch with the Steam Packet company to cancel till 9:00am, one hour after the boar had already sailed, and to my immense surprise there was not a single problem…They switched everything over to tomorrow's sailing and the cost? Nothing at all. So well done the Steam Packet Company.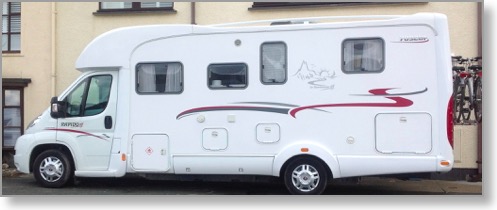 Next phone call was to the Plassey leisure Park neat Wrexham. We were booked to stay there for tonight. Not so lucky this time They read me the rules and I forfeit my £19:00 fee. There was no compromise. What they don't need to do is lecture you on the need to have adequate insurance cover to manage the cost of cancellations. Do they really think someone would make an insurance claim for £19:00? So a bad taste from a site which I have visited many times and recommended many times. My view? Bad public relations even though they were well within their rights. Can't see us going back.


"Day 1 of our 2013 motorhome adventure got off to an alarming start. We were up early, and began preparations to leave our home at 6:45a.m. to catch the ferry which was departing at 8:00. Frank had a few last minute details to deal with on the motorhome, and I was upstairs finishing the few things I had remaining as well before leaving. Frank came upstairs and laid back down on the bed...which for those of you who know Frank, is very unusual. He was excited about beginning our journey and so the fact that he needed to lay down was worrying. Good sense dictated we wait and soon made a decision to put everything back for a day.

Frank has mentioned the Steam Packet Company, kudos to them, no extra charges for tomorrow's crossing. As a side-note, we had to cancel one of our long-time favourite campsites; Plassey near Wrexham, Wales and were shocked to learn, even in the event of a health scare, they would not refund our £19. Frank was very polite, and explained, in detail the circumstance of our cancelation, the receptionist's response was very businesslike, and even though we've stayed with them many times, did not offer even the most cursory comment regarding his health, instead commenting that everyone should have good insurance cover for cancellations!
Obviously no one would make an insurance claim for £19, and if they did their increased premiums would more than make up for any advantage such a claim might have given them. Needless to say, we are both surprised at the cold attitude of the receptionist, as well as the companies' policy - we will not be returning"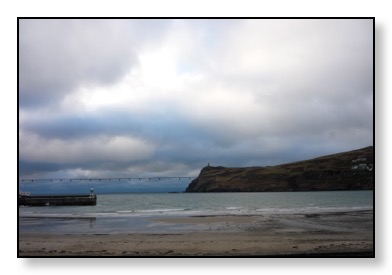 Everything is prepared, the Van is as ready as it has ever been. We have checked all the systems and they seem to be functioning properly.

So today is a bit of a bonus in that all the work is done and some good rest is now available and we will capitalise on that!

So this is the view of Port Erin that we are leaving behind tomorrow morning. No matter where we travel, home is hard to beat.