26/03/13 12:35
A great attraction of the motor-homing way of life is that you can decide to change your mind at the last minute if the mood takes you. A few years ago we were heading down the East side of France intending to cut across to the Dordogne. As we sped down the motor way I saw an intersection approach which told me that Geneva in Switzerland was jut some 60 kilometres away. On the spot I turned left instead of right and as a result had an entirely different holiday. Well, I feel a bit like that today. We love this site, Camp Haliotis near Mont-Saint-Michel. It has its own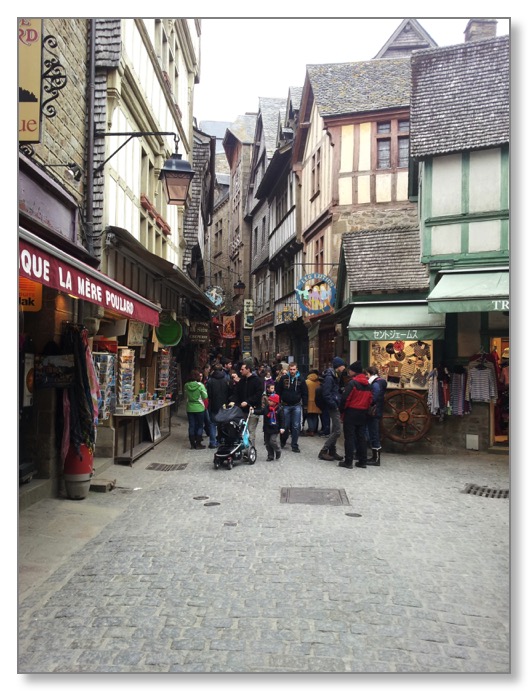 bathroom on the pitch as I described
a few days ago and everything is very convenient.

As we transport Ji Hye to Bordeaux we have been interested to show her a lot of rural France and sample local specialities as we go,

While we are being spared the rigours of the weather in the UK and Ireland nonetheless it is quite cold in the evening and the Vinny Van is very snug and there are no shortage of good TV and movies to watch.


One feature of French life we are looking out for is the French Market. We love wandering through streets looking at all the stalls and sampling the goodies on display. Dougal loves it too as, invariably, he becomes the centre of attention and he knows how to perform for the masses!

So, today is Tuesday and it was our intention to move south but as there is a market in Pontorson tomorrow we decided to wait over in case we don't get to see another before we drop Ji Hye off in Bordeaux on Sunday. Then on Thursday we will have 3 full days to get to Bordeaux and possibly even stop off at La Rochelle on the way.

Yesterday was dry and very very cold. We made our way over to Mont-Saint-Michele which has altered considerably from prior visits. The whole approach is closed and road works are all over the place…Parking is about a mile away and overall it detracts from the experience. Still Ji Hye got these photos. One outside and one inside Mont-Saint-Michele