09/04/13 15:38
So when we awake tomorrow it will be the start of our next days travel.

We are heading south to Carcassonne which is "a fairytale collection of drawbridges, towers and atmospheric cobbled streets was reputedly the inspiration for Walt Disney's The Sleeping Beauty, and it's a "must-see" on any trip through this part of southern France." Thats what the city's website says! It is just off the main motorway from Bordeaux to Toulouse and, in truth, we have seen it from afar on a number of occasions and each time we said, "We must go there sometime." So this is it.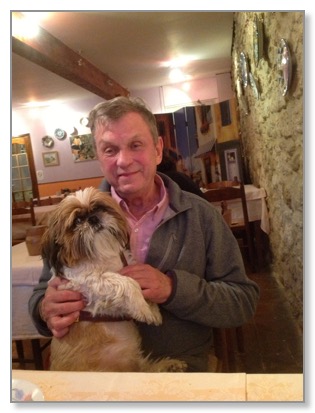 The journey is just over 190 miles although the vast majority of that is on a motorway so, hopefully, it will be a comfortable trip.

Last night we took the advice of Brenda at the campsite and tried out a new (to us) restaurant called, L'Escapade situated just outside Port-Sainte-Foy and I have to say it was top notch. We would go back there in a heart beat and as the picture shows, that goes for all of us.

So for reflections on our time in the Dordogne region lets hear what:

As we prepare for our departure from what is, arguably, our favourite campsite in France, I reflect on the nine days of time on the bank of the Dordogne. Firstly, many thanks to Bob, Brenda and Peter; who own and operate Camping La Bastide. It is due to their tireless efforts in assuring the facilities and grounds are maintained in top-notch condition that this destination remains as a 'must see' for us every year.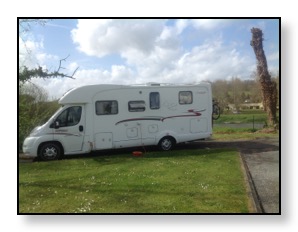 We were fortunate that a few days of the Spring-showers season allowed us a bit of sunshine, and we made the most of it, visiting the local market on Saturday, and even the medieval market in Issigeac on Sunday. As well as those treats, we were near enough to Bordeaux that Ji Hye was able to travel to Sainte Foy Le Grande to enjoy another weekend with us, and as a treat, we rented a chalet from Camping La Bastide for Ji Hye, so she even had her own little home for two nights!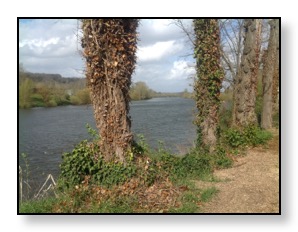 We discovered that one of our favourite restaurants in Sainte Foy had closed, but the good news was the lady (Catherine) who owned it had opened another a few miles away. We went for a lovely dinner with Bob and Brenda and discovered that not only was the food just as good as we recalled from previous years, but the setting was magnificent, if you're ever in the Dordogne it is highly recommended;
XIII Closhers,
in Monteon; We enjoyed it so much in fact, we took Ji Hye there a few nights later and subsequently discovered a very talented Anglican choir (see Frank's blog entry 6th April.)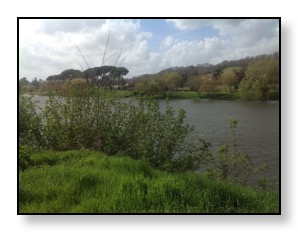 So tomorrow, bright and early (argh!) we'll head off towards Carcassonne, which is a destination I've long requested as we've sped by the medieval walled city in years past. Exciting times!