29/04/13 12:00
This is a "Good news…Bad news" item. Its about choosing a site so read on.

In this blog I have previously referred to the process of selecting sites. There are many considerations and many differing tastes. By and large we tend to end up on the type of sites we like. The location is checked out as carefully as possible on Google Earth and whatever reviews are available are fully digested. As the saying goes, it works for us, usually.

It is careful research that found us gems like La Bastide in Sainte-Foy la Grande, Camping Jungfrau in Switzerland, Lincoln Farm Park in Oxfordshire and our present stopover,
Camping Miramare
, on the tip of the peninsula overlooking Venice. A beautiful site and facilities which are second to none, add to that a restaurant just 50 paces from the front gate where we had possibly our best meal to date and you get a very high scoring site to which we will always return if we are anywhere near. Needless to say it has its downsides but I can think of only one. It is beside the sea but has no sea views and that is it. Weigh that against, lovely staff, superb toilet facilities, the best dog facility I have ever come across, beautiful spacious pitches and a brilliant little supermarket and suddenly sea views aren't that important. By the way I didn't mention Wi Fi which is superb and costs only €5 for however long you stay, and my satellite TV works! A fabulous site if ever there was one.
Click here to visit its website
.

That is the good news and I want to take some time to talk about the bad news which comes in the form of a disastrous site selection at Lake Garda the day before yesterday. There is a background which I want to explain in some detail.

You will have gathered from our blog entries that we found a delightful site on the Ligurian Coast line called Camping Smeraldo. Its entry, through a tunnel was almost magical and you felt, with the majestic views, that you were in a special place. Well, all good things must come to an end and we decided that Saturday was the best day to travel as the weather changed rather dramatically and sunshine gave way to heavy rain.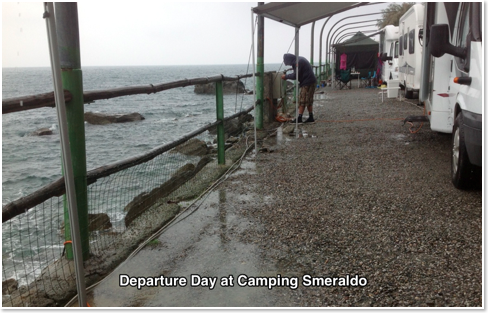 Our trail was heading north west so after careful consideration we decided to head for the Lake Garda area, a drive of 181 miles but mostly on motorways.

Any cursory glance at a map of Lake Garda will tell you that there are hundreds of sites to choose from so here a research system was important. Our first point of interest was to find something towards the South end of the lake so that our onward route to Venice would be easiest. Some weeks ago I posed a question on the
Motorhomefun forum
(one of my favourite sources of chit chat and tips). The question asked if anyone had recommendations for sites for the area. I got a number of replies but one campsite name came up twice. Camp Butterfly. I followed this up with a phone call to check for availability and to ensure that there was wi fi available throughout the site. The answer was an emphatic "yes" to both. Let me make it clear at this point that I can well understand that people come to this site and enjoy it but for us it was our single worst experience in years.

Trying to be as balanced as I possibly can be I must say that the site is mis managed, fronted by staff who clearly cannot cope and worse, who are oblivious to the needs of the many visitors the location of their site attracts. The notion that the customers needs are important is absolutely irrelevant here. Allow me to explain.

1 When we arrived we drew up into a narrow entrance where there was a queue of people waiting to register, no problem with that. They were being attended by one staff member yet I counted 4 inside the office. The registration process was painful and I watched almost every single customer getting angry. The lady dealing with all of this was Rebecca, who within my hearing said to at least 3 different customers, "There are plenty of sites, you don't have to stay here". In time she was to say exactly the same thing to me.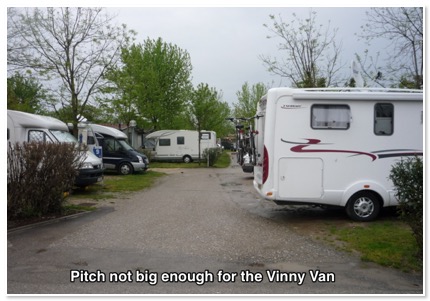 2 I was standing with Gianni, who is native Italian so we could make the registration as smooth as possible. It took 10 minutes to register both of us, a process at any other camp would take less than half that. Still the extra heads in the reception area contributed nothing that we could see. At Last, we are allocated our pitches and off we go. Our first big problem. They are occupied. We selected two empty pitches close by and tried to squeeze our vehicles into them. Add to all this it had been raining heavily (not their fault) and the site was muddy and wet. Very unpleasant conditions.

3 On the plus side we were near to the toilet block which, I must say, was well maintained and very clean.

4 Close by was a restaurant which seemed to be owned by an external organisation. It was truly excellent and we drowned our sorrows in style in the only pleasantly memorable part of our stay.

5 I have saved the worst to last. Wi Fi. I have commented before on different attitudes to the Internet from site to site, some are superb and some just don't have it. What I have never come across is the abject stupidity that Camp Butterfly demonstrate. They have a sign which says that you can only buy a subscription on a Saturday between 7:00pm and 9:00pm.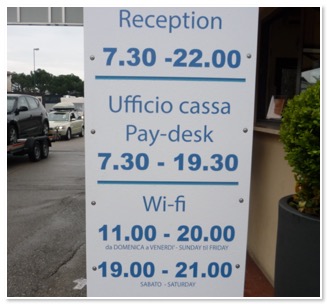 I returned at 6:30pm to see if I could buy a login as I had a commitment to pursue on Skype. "No", was the answer, "Not until 7:00pm." I showed my Press Card and asked if they could make an exception to facilitate me. No, said the same Rebecca. I asked why they were so unbending with their rules and what she said really surprised me. "Our boss says we cannot take money for the Internet until 7:00pm because we are so busy" I asked if I could talk to the boss? "No, the rules are there. It has to be 7:00pm" I should point out that it is now 6:45pm and there is no one else in the queue and, I would have thought, it was obvious that they were headed towards a public relations disaster. Totally unmoved I got my marching orders until 7:00pm.

I asked again about the Boss and was met with blank stares. Now if you think that was an end to it, read on.

I returned at 7:00pm to find a long queue of people waiting to get login subscriptions. When it came to my turn I explained I wanted separate subscriptions, one for me, one for Nancy and one for Gianni and Loretta. "Can I see your passport please?" For the internet?? They had previously seen and copied my passport during the registration process (and all the others as well). My passport was back in the van so I showed them my Press Card, full picture ID. I pointed out that they had already everyones passport details but alas this wasn't acceptable. By this stage this was unbearably stupid. This was an INTERNET connection we were trying to buy. Nancy arrived, showed her driving licence and that was it completed. Never have I ever come across a location where you have to produce a passport to sign onto an Internet connection.

Any idiot who knows anything about the Internet will know that the more people who use it the slower it will get. If you have a local network and you "herd" the users to all buy their connection at the same time the system becomes overloaded and, as in this case, becomes unusable. Guess what? It was unusable. I was unable to work and so we all moved to the site restaurant where we had a lovely meal. The only positive I have for this site.

To the Boss, if I had a chance to meet him I would say. You are blessed in the location of your site. Sadly you take advantage of your visitors in the organisation of your reception and the skimpiness of your pitches. Your staff hide behind your "rules" which, in the case of the wi fi, causes your system to become overloaded. That sir or madam is simple stupidity. This is not just one disgruntled customer. I saw many who complained about having to stand in the rain to buy an Internet connection. Charging people €2 an hour to use the Internet which is now the vehicle for people to work and keep contact with their families is unconscionable; to organise it in such a way as to put a strain on the resource to the point that it doesn't work is, in my humble opinion, "virtually" dishonest.

The following day we left and headed for Venice. Before departure I brought my complaint to the reception. The Internet didn't work. Rebecca threw €20 on the desk, "Here is your money back" in the most ungracious gesture imaginable.

So Boss, why not write to me and tell me anything that could explain away such a dire experience.

And to bring us right up to date…faith restored!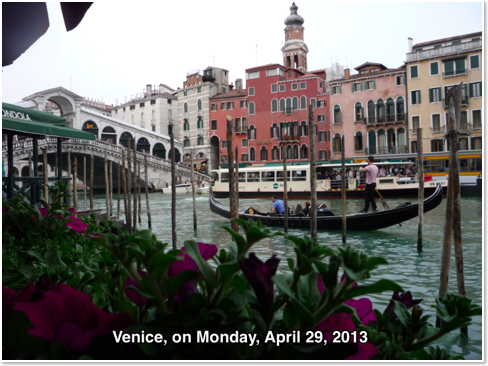 19/03/13 12:57
Today is a day spent relaxing, chilling out and catching up on emails and such like.

It's also a day for using the Internet to look up sites I may well want to visit in the coming days which leads me to express some views about sites and the Internet in general. I feel quite strongly about this.


Firstly it is inevitable, in due course, that the Internet will be available and free in years to come. In many places it is already but there are some who still seek to capitalise by charging through the nose for the service. I am speaking particularly about sites that sell access to the Internet for a single device and nothing else.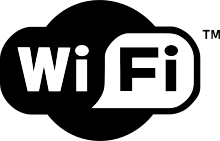 With the speed of evolution of technology it is commonplace for people such as ourselves to have more than one device. People have iPads, iPods, blackberries and computers because the nature of communication has changed so dramatically in the last few years. It's now a struggle to keep up. What this means is that when you go to one of those sites that sells single device access you end up paying twice or three times the price depending on the number of devices you happen to have in your motorhome or caravan. The Caravan club is one of the better organisations in that you can buy a subscription which gives you a password which you can then use on any of its sites throughout the country, or at least most of them. The subscription is not device specific and the quality of the Internet connection is usually excellent.

Remembering that communication has changed dramatically in recent years people now rely on their computer or iPad for not just emails but Skype and other forms of communication to keep in touch. I think, therefore, that sites should be attracting visitors by offering free Internet connection instead of taking advantage by charging over and over for the same service. I have to say that this attitude to Wi-Fi is fast becoming one of the main considerations I use when deciding whether or not to visit a particular site.

If anyone has any thoughts on this subject please feel free to
go to my contact page
and let me know. I am keen to get other views and ideas.

Taken it easy today gives me an opportunity to look back over some sites that I've used over the years and if you're travelling into southern Europe make sure you note
Dianne Thompson's pages, the joys of caravanning
, which are very helpful and worth a visit.