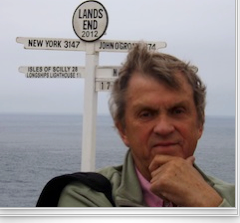 Here, there, everywhere and some other places too …
22/03/13 10:22
A couple of times in the past we stayed off at a campsite just about an hour north of Paris called, Camping de Sorel. It is in the Oise region. It is a full grassy layout set in a pretty French Village which boasts the compulsory Chateau!!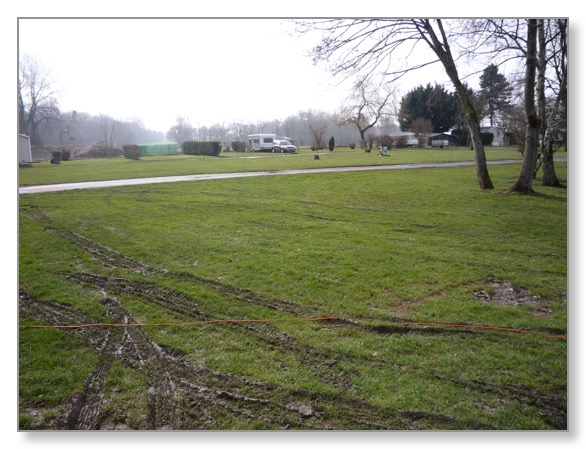 Times have changed since we were here last as they have added a restaurant which, sadly, doesn't open on a Thursday night!

The owners are a happy bubbly couple for whom nothing is too much trouble and were a little unhappy because poor weather in recent weeks had made the pitches muddy and none too attractive. Still they located us on one of the pathways and all was well except for the fact that Dougal and mud go together like peaches and cream and carpet cleaning is now added to our list of ever growing skills!

On the down side we bought 24 hours worth of Wi Fi as I like to do my writing catch up at night time so imagine my chagrin when it simply turned off and didn't return until 8:00am. Not so good.

Also we had trouble with the Sky satellite and it seems that the Sky organisation have now made it tough for people like us to access the their service from abroad. I don't pretend to understand this but no doubt I will be adding bits and pieces as I go along.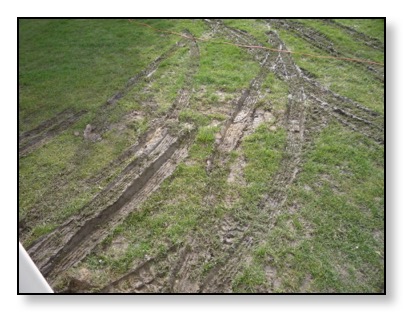 Today is a special day as Ji Hye joins us in Paris for a few days on her way to Bordeaux to study. There will be lots more about her later as her parents in Seoul will be following our travels on this blog.

Hope to see much less mud and much more sunshine. The forecast I looked at this morning is optimistic!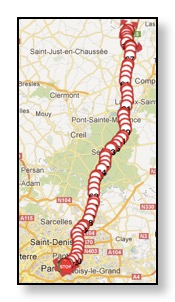 What an interesting thing the satnav happens to be. How did we ever find our way around before they came along? A great example was today's exploits. We were camped overnight about 60 miles North of Paris. Ji Hye Lee flew into Charles De Gaulle airport last night and stayed over night in a hostel just east of central Paris. So the problem for us was how to connect.

Last night she e-mailed us the address of her overnight accommodation, I put it into the search bar of Google Earth and dropped a pin onto the map. From the info tab I got the precise coordinates and promptly keyed them into the satnav. As they say over here, Le Voila! I started the trip shown on the map here and got directed to the very spot where she was standing, suitcase in hand! Minutes later we were on our way westwards out of Paris and are now settled in a beautiful site right on the banks of the River Seine. The site is called Camping de L'ile des Trios Rois, Les Andelys in the Normandy region of France. The site is dominated by an ancient castle on one side and the imposing River Seine on the other.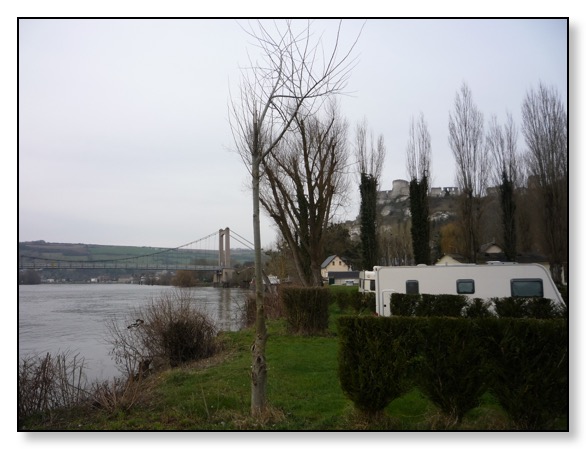 It was a special moment meeting up with Ji Hye again. For those who do not know her, she came into our lives in 2003 as a 14 year old who came to Arizona to be an exchange student. She lived with us and has remained part of our life ever since. She recently graduated in architecture in Seoul and has come to France to learn the language so that she can pursue even more qualifications. She is joining us and we will meander our way to Bordeaux where she starts her new course on April first.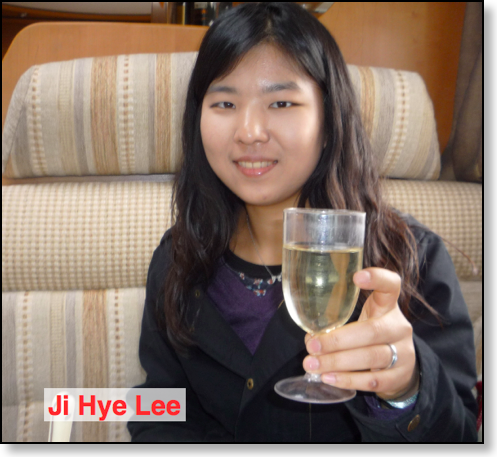 Sidebar
T