14/05/13 21:53
Today is Saturday, May 11, 2013 and we promised ourselves a reasonably early start as we head beyond Munich towards Alsace. In keeping with the previous 24 hours it poured and so packing up, never an experience to savour, became downright arduous. In fairness to Camping Harass our memories will be clouded by the awful weather but, it has to be said, the location is pretty special. Like so many sites these days, Harass has a "run down" feel to it but maybe I should be a bit more circumspect as torrential rain seldom makes anywhere look good. I would go back if I was in the area and that has to be the real test.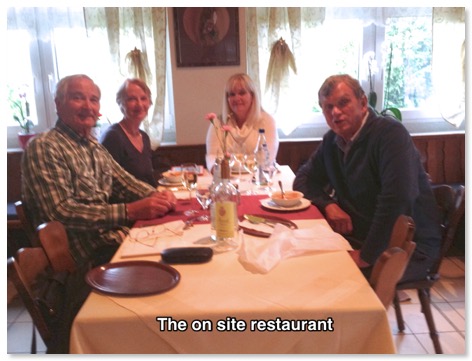 Because Alsace is over 300 miles away we are stopping off en route at a site called
Camping Waldpark Hohenstadt.
It is located just off the autobahn west of Munich and I had a good feeling about it following a telephone call to ensure availability. The owners are a delightful couple, Axel and Heike Rohm. In my phone call I found Heike to be so helpful and clearly willing to go that extra bit to ensure you are satisfied with her service. Interestingly she confirmed something we have noticed throughout this trip, namely, helpful and attentive staff are invariably a good indicator of the quality of the campsite.

When we arrived we were not disappointed. This is a rural site with no real views but the pitches were well looked after and the toilet facilities are exceptional. There is an onsite Italian restaurant and we spent a very pleasant couple of hours unwinding after a long drive. Speaking of which, we fully expected that it would be a reasonably comfortable journey, all motorway except for about 4 miles. What we got was a pain. The longest and largest road works I have ever seen. I am sure the construction, of what will be a superb new autobahn, lasted for about 40 miles and although my German is pretty non existent even I could read that it is scheduled to be completed late in 2015! So, there is a road to avoid for a while.