26/04/13 10:08
One of the most enjoyable aspects of the motorhoming lifestyle are the little eccentricities that we all indulge in. When Ji Hye was travelling with us she just loved the camaraderie displayed as motorhomers waved to each other as we sped along the various continental roads. And within that the apparent "superiority complex" of pointedly NOT waving to caravan owners etc. We are a strange lot.

Add to that the fact that you immediately bond with anyone and everyone when you eventually settle on a site and you realise you are part of a very special club. Take, for example our travelling companions on this trip, Gianni and Loretta Carbone. Our relationship is just a year old having met on the banks of the Loire in April 2012 and have been firm friends ever since. We have lots in common including an inherent curiosity to explore and try things new.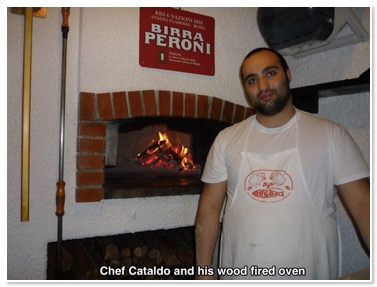 So it is that curiosity that left us open to the excitement of finding not just a new campsite but one of such unique proportions that it has crept to the very top of our all time favourites list. as
described in our previous blog
, We have been here now a few days and regard it as a gift that keeps on giving.

Take last night, for example. Yesterday was a feast day in Italy, a national holiday and not surprisingly the site filled up with every imaginable shape and size of vehicle. Smeraldo is obviously a gem in this Ligurian coastline and the Italians have been very successful in keeping the secret. We are the only two GB vehicles on the site although there is a sprinkling of Spanish and German rigs.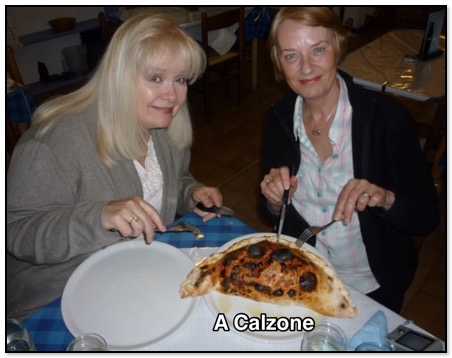 So last night we returned to the little site restaurant located with its own terrace with views that defy description. It is called "Dos Olas" and is a Ristorante, Pizzeria. The facility is run by a charming Italian/Spanish couple, Yuri and Suzanne Leandri and they bring a delightful charm and a personal touch. Assisted ably by Chef Cataldo who manages the wood fired Pizza oven they produce quality food the Italian way.

Last night we felt celebratory for a whole variety of reasons and I opted for a salami Pizza while Nancy and Loretta thought they would start with a Calzone. Now my experience of Calzones is limited to the time I lived in Arizona where a Calzone was something you had as a starter to get you in the "mood" for the real stuff to come later. This was a game changer as the picture shows Nancy and Loretta quickly decided that sharing one would pass as the main course!! Fantastic.

Needless to say Gianni is in his element, proud to be an Italian and guiding us beautifully through menus with little tips along the way.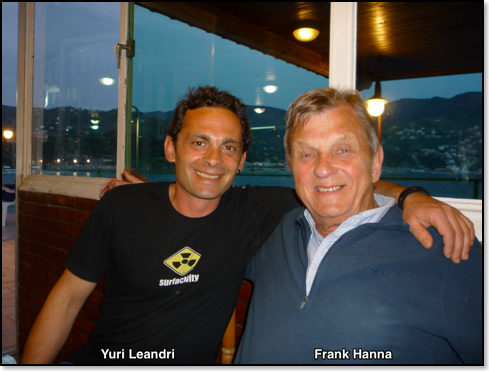 As the evening drew to a close, Yuri came and joined us rounding up the evening with a bottle of Limoncello for a nightcap on the house.

On reflection, this restaurant deserves all the luck it gets. True, it is in a beautiful location but the inaccessibility of the campsite means that his customer base is likely to be confined to the camping fraternity. A worthy venture and one that deserves a lot of support.
04/04/13 10:25
So far we have stayed 3 nights at Sainte-Foy La Grande at the Camping de la Bastide site and are enjoying the relaxation and the superb facilities.

We have had our moments and one story highlights the special qualities we have come across. For a few days we noticed a damp patch on the carpet just below the sink in the kitchen area. We theorised that maybe we had spilled a glass of water but then I felt that something had juggled the tap inadvertently causing a drip. We were happy with our theories until I had occasion to go to one of the outside lockers to get something. It was saturated revealing a much bigger problem than I first thought.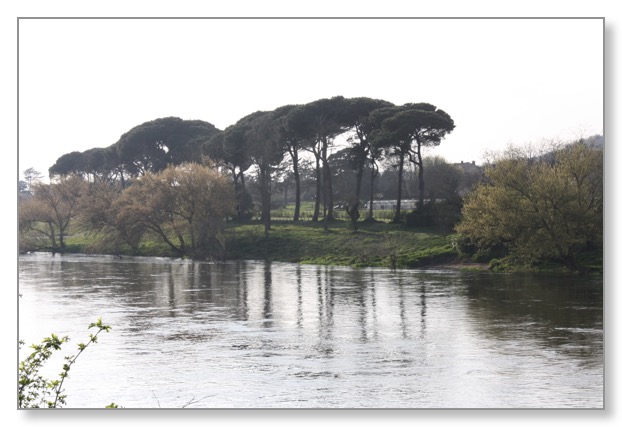 I put my hands up at this stage and confess that my technical skills with the motorhome are on a par with Mickey Mouse but, nonetheless, I did discover the problem. A drainage pipe from the sink to the waste tank had become separated at a middle joint. Simple. Or was it? Plastic piping with joints that just slid into each other seemed not too much of a challenge. As I was fumbling away Bob, the owner, passed by and immediately volunteered to help. He sussed out the problem in no time but realised the solution was just not so simple. Then along came Peter, Bob's son who has forgotten more about things mechanical than I will ever know. Out came the drawers, off came the door and pipes got reunited, sealed and put back to bed secured in a way they had never been before. A lot of good banter as everything got put back together again. Job done and I am now the proud possessor of a happily reunited drainage pipe.

Just across the way another Rapido pulled in and suddenly we have new neighbours. Alan and Lynda are enjoying their granddaughter's company and celebrating their 44th wedding anniversary As always with motor homers we exchanged all sorts of tid bits and they mentioned one of their favourite websites which is
http://www.motorhomefun.co.uk/
. I checked it out and it truly is a mine of information and a very friendly mix of people. I am now signed up and within a matter of 3 hours over 150 members had been to visit my profile. This is a real find and has a great facility to pose problems you might encounter and provide first hand answers within minutes.

There is no doubt the motorhoming community are a great bunch so a big thanks to Peter and Bob and to Alan and Lynda.
02/04/13 09:10
Settled at Camping*** de la Bastide at Sainte-Foy-la Grande on the bank of the River Dordogne. The pictures over the next week will speak for themselves but this is, indeed, one of our very favourite sites. It is small, neat and is owned by a delightful UK couple Bob and Brenda together with their son Peter and his son, Daniel who we have watched grow into a a fun young man over the past few years.

I love the area and we will stay here for about a week.

Time now to talk about the travel over the past few days. When we left the Ile de Re our route took us due south and was planned by the satnav so apart rom the odd 20 mile needed to get off the Island it was pretty much all motorway all the way to Bordeaux. Many people travelling like us seek to avoid the motorways and I entirely accept the fact that it is altogether more interesting to take the lesser roads getting the full value of the French experience. That is my own preference unless of course I have a deadline as was the case heading to Bordeaux. That, however, is not to say that the motorways are boring and unattractive, far from it. The drive was interesting as we spent a considerable time in vineyard country and passed through many different regions that tell their own story, Cognac to mention only one.

Then the approach to Bordeaux is interesting as you pass over the Dordogne and the Gironde as they finally make their journey to the sea. All in all an interesting drive.

Then onto yesterdays trip from Bordeaux to Sainte -Foy La Grande.

Once again we crossed the rivers and were able to make a speedy retreat from Bordeaux and were on the motorways in no time. The trip was a beautiful variation of villages and vineyards by the hundreds and in just over an hour we were entering Sainte-Foy La Grande and our first stop was the major supermarket on the edge of the town where we stocked up and got ready for a nice long resting process.

Setting up at the site was very straightforward…Everything is on hand, water, electricity and drainage all within about 20 feet of the river Dordogne.

For the first time this trip we took out the awning, table and chairs and of course the blue lounger that a certain person has long since claimed as "His Chair". Well, who am I to argue?
29/03/13 09:15
The Joys of Motorhoming!

So we finally made our departure from Camping Haliotis but not without our little piece of drama…You guessed it, more mud. Our wheels sunk into the grassy pitch and a tractor was on hand to haul us out. Once again the staff were fabulous and in no time at all we were back on terra firma and ready to roll.

The day was always going to be one where we simply did a lot of driving to get further down towards Bordeaux where we have to deliver Ji Hye for Sunday.

As things turned out it was a lovely drive, a mixture of motorways and National Routes with very little traffic and some special scenery. We crossed over the Loire and that brought back a memory or two.

Our target was a site which gets good reviews and is in the Vendee. It is called Camping le Rouge Gorge In Pays de la Loire and is another friendly and helpful site which is very quiet at this time because the season hasn't quite started.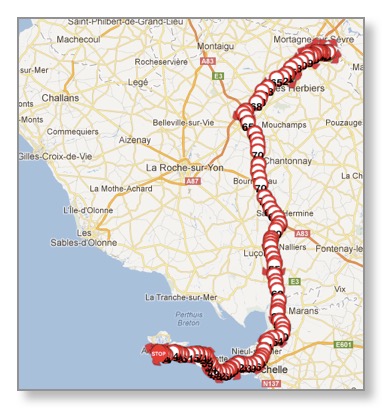 True to form we managed our own little drama. As we settled down to dinner I decided that the Van needed a bit of heat but for some reason the heating controls were unresponsive and, to put it mildly, were as dead as a doornail! We looked at all the logical explanations and found no answer. Calls were made to my mate, Geoff Masden, my "go-to" man in these matters but we all drew blanks. So an early night was called for, a good sleep followed and when we woke up there was good news and bad news.

The good news? Well, the heating controls were now working perfectly. The bad news? The place was covered in snow!

Now the van is heated to a nice toasty warm and the snow seems to be dispersing and we are preparing for a drive down to La Rochelle and the Ile de Re.

An uneventful drive totalling 89 miles gets us to Ars-en-Re. The weather was downcast and misty which was such a pity as the drive from the mainland onto the Ile de Re, across the bridge was just shrouded in mist. Hopefully it will be a bit better when we head to Bordeaux on Sunday. The route today is shown in the picture.
26/03/13 12:35
A great attraction of the motor-homing way of life is that you can decide to change your mind at the last minute if the mood takes you. A few years ago we were heading down the East side of France intending to cut across to the Dordogne. As we sped down the motor way I saw an intersection approach which told me that Geneva in Switzerland was jut some 60 kilometres away. On the spot I turned left instead of right and as a result had an entirely different holiday. Well, I feel a bit like that today. We love this site, Camp Haliotis near Mont-Saint-Michel. It has its own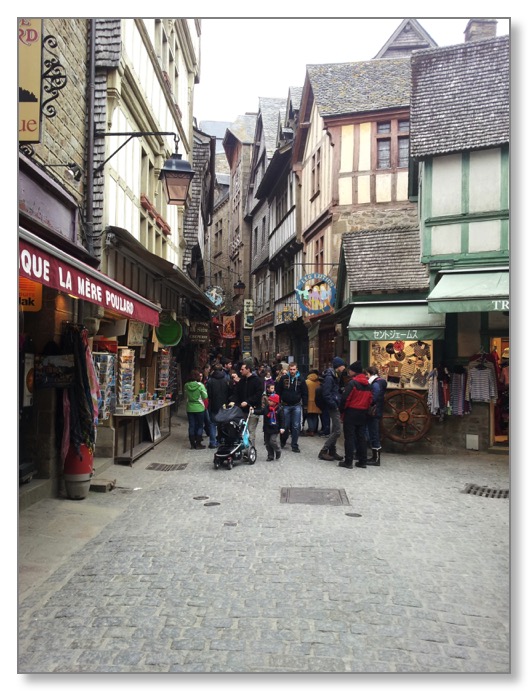 bathroom on the pitch as I described
a few days ago and everything is very convenient.

As we transport Ji Hye to Bordeaux we have been interested to show her a lot of rural France and sample local specialities as we go,

While we are being spared the rigours of the weather in the UK and Ireland nonetheless it is quite cold in the evening and the Vinny Van is very snug and there are no shortage of good TV and movies to watch.


One feature of French life we are looking out for is the French Market. We love wandering through streets looking at all the stalls and sampling the goodies on display. Dougal loves it too as, invariably, he becomes the centre of attention and he knows how to perform for the masses!

So, today is Tuesday and it was our intention to move south but as there is a market in Pontorson tomorrow we decided to wait over in case we don't get to see another before we drop Ji Hye off in Bordeaux on Sunday. Then on Thursday we will have 3 full days to get to Bordeaux and possibly even stop off at La Rochelle on the way.

Yesterday was dry and very very cold. We made our way over to Mont-Saint-Michele which has altered considerably from prior visits. The whole approach is closed and road works are all over the place…Parking is about a mile away and overall it detracts from the experience. Still Ji Hye got these photos. One outside and one inside Mont-Saint-Michele