26/04/13 10:08
One of the most enjoyable aspects of the motorhoming lifestyle are the little eccentricities that we all indulge in. When Ji Hye was travelling with us she just loved the camaraderie displayed as motorhomers waved to each other as we sped along the various continental roads. And within that the apparent "superiority complex" of pointedly NOT waving to caravan owners etc. We are a strange lot.

Add to that the fact that you immediately bond with anyone and everyone when you eventually settle on a site and you realise you are part of a very special club. Take, for example our travelling companions on this trip, Gianni and Loretta Carbone. Our relationship is just a year old having met on the banks of the Loire in April 2012 and have been firm friends ever since. We have lots in common including an inherent curiosity to explore and try things new.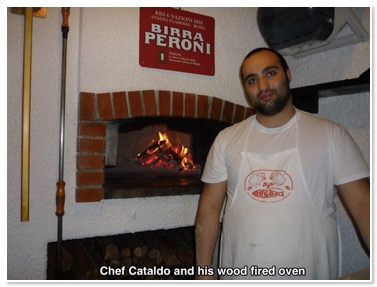 So it is that curiosity that left us open to the excitement of finding not just a new campsite but one of such unique proportions that it has crept to the very top of our all time favourites list. as
described in our previous blog
, We have been here now a few days and regard it as a gift that keeps on giving.

Take last night, for example. Yesterday was a feast day in Italy, a national holiday and not surprisingly the site filled up with every imaginable shape and size of vehicle. Smeraldo is obviously a gem in this Ligurian coastline and the Italians have been very successful in keeping the secret. We are the only two GB vehicles on the site although there is a sprinkling of Spanish and German rigs.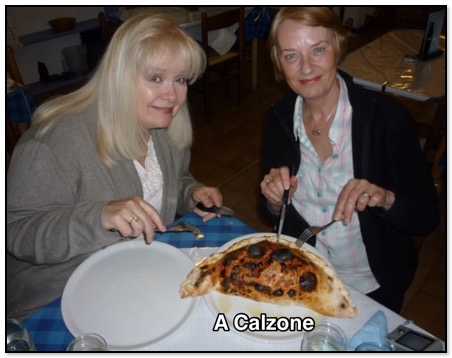 So last night we returned to the little site restaurant located with its own terrace with views that defy description. It is called "Dos Olas" and is a Ristorante, Pizzeria. The facility is run by a charming Italian/Spanish couple, Yuri and Suzanne Leandri and they bring a delightful charm and a personal touch. Assisted ably by Chef Cataldo who manages the wood fired Pizza oven they produce quality food the Italian way.

Last night we felt celebratory for a whole variety of reasons and I opted for a salami Pizza while Nancy and Loretta thought they would start with a Calzone. Now my experience of Calzones is limited to the time I lived in Arizona where a Calzone was something you had as a starter to get you in the "mood" for the real stuff to come later. This was a game changer as the picture shows Nancy and Loretta quickly decided that sharing one would pass as the main course!! Fantastic.

Needless to say Gianni is in his element, proud to be an Italian and guiding us beautifully through menus with little tips along the way.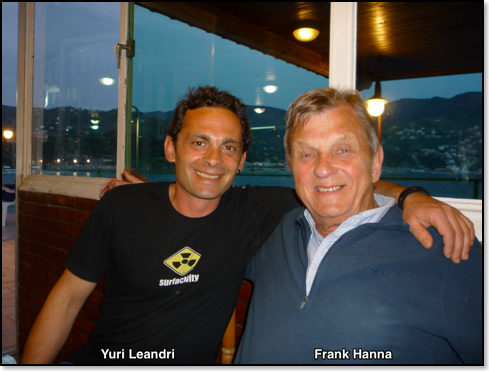 As the evening drew to a close, Yuri came and joined us rounding up the evening with a bottle of Limoncello for a nightcap on the house.

On reflection, this restaurant deserves all the luck it gets. True, it is in a beautiful location but the inaccessibility of the campsite means that his customer base is likely to be confined to the camping fraternity. A worthy venture and one that deserves a lot of support.