09/04/13 15:38
So when we awake tomorrow it will be the start of our next days travel.

We are heading south to Carcassonne which is "a fairytale collection of drawbridges, towers and atmospheric cobbled streets was reputedly the inspiration for Walt Disney's The Sleeping Beauty, and it's a "must-see" on any trip through this part of southern France." Thats what the city's website says! It is just off the main motorway from Bordeaux to Toulouse and, in truth, we have seen it from afar on a number of occasions and each time we said, "We must go there sometime." So this is it.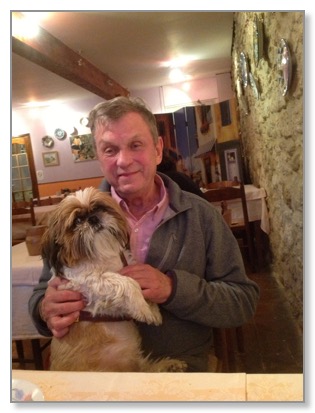 The journey is just over 190 miles although the vast majority of that is on a motorway so, hopefully, it will be a comfortable trip.

Last night we took the advice of Brenda at the campsite and tried out a new (to us) restaurant called, L'Escapade situated just outside Port-Sainte-Foy and I have to say it was top notch. We would go back there in a heart beat and as the picture shows, that goes for all of us.

So for reflections on our time in the Dordogne region lets hear what:

As we prepare for our departure from what is, arguably, our favourite campsite in France, I reflect on the nine days of time on the bank of the Dordogne. Firstly, many thanks to Bob, Brenda and Peter; who own and operate Camping La Bastide. It is due to their tireless efforts in assuring the facilities and grounds are maintained in top-notch condition that this destination remains as a 'must see' for us every year.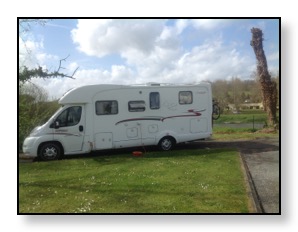 We were fortunate that a few days of the Spring-showers season allowed us a bit of sunshine, and we made the most of it, visiting the local market on Saturday, and even the medieval market in Issigeac on Sunday. As well as those treats, we were near enough to Bordeaux that Ji Hye was able to travel to Sainte Foy Le Grande to enjoy another weekend with us, and as a treat, we rented a chalet from Camping La Bastide for Ji Hye, so she even had her own little home for two nights!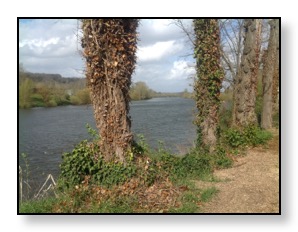 We discovered that one of our favourite restaurants in Sainte Foy had closed, but the good news was the lady (Catherine) who owned it had opened another a few miles away. We went for a lovely dinner with Bob and Brenda and discovered that not only was the food just as good as we recalled from previous years, but the setting was magnificent, if you're ever in the Dordogne it is highly recommended;
XIII Closhers,
in Monteon; We enjoyed it so much in fact, we took Ji Hye there a few nights later and subsequently discovered a very talented Anglican choir (see Frank's blog entry 6th April.)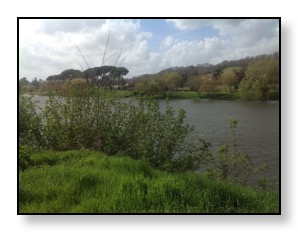 So tomorrow, bright and early (argh!) we'll head off towards Carcassonne, which is a destination I've long requested as we've sped by the medieval walled city in years past. Exciting times!
04/04/13 10:25
So far we have stayed 3 nights at Sainte-Foy La Grande at the Camping de la Bastide site and are enjoying the relaxation and the superb facilities.

We have had our moments and one story highlights the special qualities we have come across. For a few days we noticed a damp patch on the carpet just below the sink in the kitchen area. We theorised that maybe we had spilled a glass of water but then I felt that something had juggled the tap inadvertently causing a drip. We were happy with our theories until I had occasion to go to one of the outside lockers to get something. It was saturated revealing a much bigger problem than I first thought.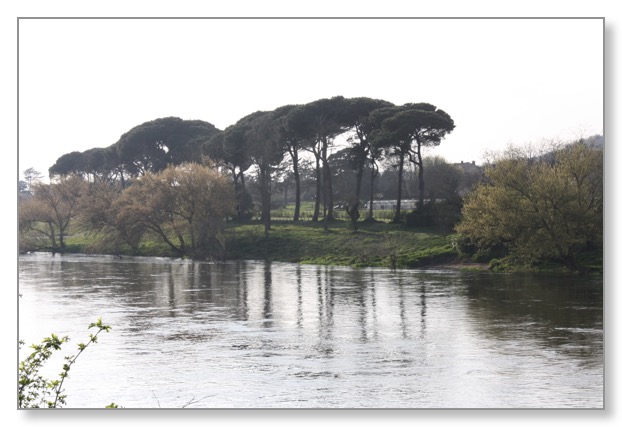 I put my hands up at this stage and confess that my technical skills with the motorhome are on a par with Mickey Mouse but, nonetheless, I did discover the problem. A drainage pipe from the sink to the waste tank had become separated at a middle joint. Simple. Or was it? Plastic piping with joints that just slid into each other seemed not too much of a challenge. As I was fumbling away Bob, the owner, passed by and immediately volunteered to help. He sussed out the problem in no time but realised the solution was just not so simple. Then along came Peter, Bob's son who has forgotten more about things mechanical than I will ever know. Out came the drawers, off came the door and pipes got reunited, sealed and put back to bed secured in a way they had never been before. A lot of good banter as everything got put back together again. Job done and I am now the proud possessor of a happily reunited drainage pipe.

Just across the way another Rapido pulled in and suddenly we have new neighbours. Alan and Lynda are enjoying their granddaughter's company and celebrating their 44th wedding anniversary As always with motor homers we exchanged all sorts of tid bits and they mentioned one of their favourite websites which is
http://www.motorhomefun.co.uk/
. I checked it out and it truly is a mine of information and a very friendly mix of people. I am now signed up and within a matter of 3 hours over 150 members had been to visit my profile. This is a real find and has a great facility to pose problems you might encounter and provide first hand answers within minutes.

There is no doubt the motorhoming community are a great bunch so a big thanks to Peter and Bob and to Alan and Lynda.