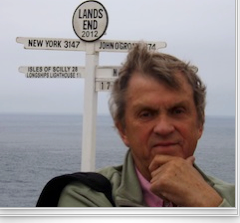 Here, there, everywhere and some other places too …
02/04/13 20:47


We've been busy! We picked Ji Hye up in Paris on March 22rd, and proceeded seventy miles to a quirky, quintessentially French campsite; no toilet seats, but it was on the banks of the Seine, so no one really cared. That evening we'd decided we would eat out, as there is no experience like just wandering though a village and finding a cuisine treasure. We found such a place, and initially, it looked like we'd be turned away as they were booked for a private party, but the nice woman who met us at the door seemed to change her mind, and let us in.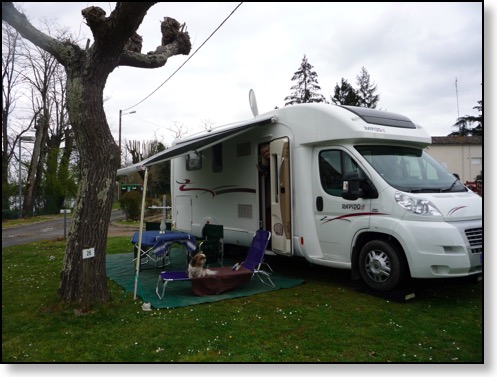 Fascinating, surreal experience; tapas only, so no menu, and we were asked if we'd like to salsa between courses. Huh? We declined on dancing, but took away yet another quirky, French dining story. Frank took a lovely photo of Dougal as he laid on his special dining blanket at our feet - he loves French restaurants nearly as much as we do

Our next stop with Ji Hye was a place we'd visited last year near Mont Saint-Michel, which is, arguably, the most luxurious of the campsites we visit in France, as it provides a private five-star toilet/shower facility for each pitch. Sadly the camp was just as muddy as it was last year - Spring showers bringing May flowers sort of thing - but we enjoyed our five days with Ji at the camp, and although Mont Saint-Michel was off limits to Frank and I due to their new, and I think discriminatory, rule about dogs, Ji visited it and took lovely photos.

The next camp was in the Vendee, which in itself was nothing memorable, but the village was lovely, and two relatively disturbing things happened; the heater in our motorhome inexplicably stopped working, and we woke up to snow on the ground! So...we bundled up and hurried onward, ever closer to Bordeaux, and another favourite spot of ours; Ile de Re.

Again the weather didn't give us a break, and sadly the views of this normally stunning place, were somewhat misty, and didn't represent the beauty of the island as fully as we remembered.

We did have an experience, and it started off as another lovely dining story, but this one ended badly; I fed Dougal 'moules' which is mussels - they were lovely, and a speciality of the island. Dougal ate about half of my portion - he really loved them, and all three of us commented on what a varied palate Dougal has developed. So...about 3:00am Dougal, who sleeps with us, woke me with a furious case of itching - he could not stop scratching. By morning it was seriously bad; his skin was bright pink, and was so itchy he couldn't walk two feet. Frank and Ji walked into the village looking for Benadryl, as I held Dougal trying to keep him from hurting himself by his constant scratching. Turns out Benadryl is not something you can find in France, and as the next day was Easter, we needed to find an emergency vet. Frank found one, who thankfully gave Dougal a steroid shot that cured him almost immediately. So...moral of the story is I don't feed Dougal anymore shell fish, or anything that he hasn't eaten before. Scary few hours, and I gotta say, Ji Hye was wonderful, as always, in helping with Dougal during his crisis.

The next day was Easter, and a sad time for Frank and I, as Ji Hye needed to be at her new Bordeaux French home by 2:00pm.

I'd like to say something about Ji Hye; our motorhome is not large, really only sleeps two people comfortably, a third bed can be made by folding down the dining table, and combining cushions, but it isn't exactly luxurious. Ji was, as always, sweet, helpful, kind and never complaining for a moment about anything. Truly, as we've always known, she is an exceptional person in all ways, and as pleasant company as you'd ever hope or want to have.

We're now happily ensconced at one of our favourite sites in Sainte-Foy la Grande, which is owned and operated by a wonderful British family; Bob, Brenda, Peter and his young son, Daniel. The camp is on the bank of the Dordogne (see the picture taken right outside our door) and is idyllic in all possible ways; we're staying at least a week - Frank needs the rest and this is as good as it gets for calm, peaceful moments. But, the really good news is we're within a comfortable distance from where Ji Hye is staying in Bordeaux, so we're hoping she'll come to see us at the weekend for two more days! Hopefully the weather will give her a better experience of our motorhome touring / camping lifestyle that we've come to love so much; more later!
01/04/13 02:09
Easter Sunday finds us in Bordeaux following a pretty drive from the Ile de Re. This was the final leg of our journey with Ji Hye who starts her French course tomorrow. She will be resident here for the next six months. We checked into a new (2009) campsite on the outskirts of Bordeaux and an impressive one it is too. It is called Camping de Bordeaux Lac and is situated close to the exhibition centre and seems to be extremely busy.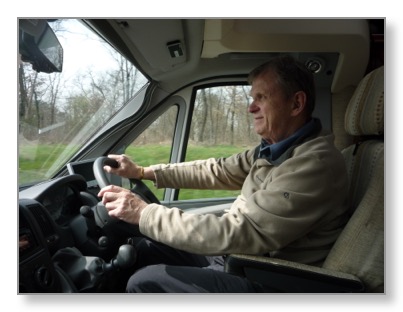 Needless to say we had our moments of drama with the mud but the less said about that the better…We are now happily installed on a hard standing pitch, the satellite is working and there is a very attractive on site restaurant.

Tomorrow it is just a short hop to Sainte-Foy-La-Grande where we will chill out for a while.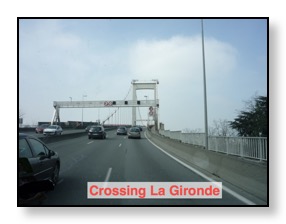 During this trip I have had cause to think about things we now take for granted. I am covering much ground here that I had been to before. Mont-Saint-Michel and the Dordogne have been favourite locations of mine since my childhood. I have been back time and time again but in recent years it has been with the extraordinary help of that pushy woman who sits on my screen and who for the sake of clarity we will call "Satnav". I know, I know we used maps back then and some among us still do but just how did we manage? Today was a very good example of what I mean.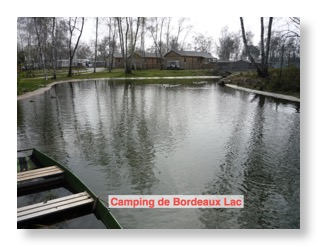 We left Ile de Re this morning with a drive of 136 miles to contend with. Ji Hye had to get to her new home-base for 2:00pm. I knew the address so last night I fired up Google Earth, keyed in the address, zoomed in and got a street view of where I was going. At the time I was chatting on Skype to my friend David in Phoenix, who is following our exploits and who knows Ji Hye from our Arizona days;

I happened to mention to him what I was doing. He then did the same and we had an interesting exchange as to whether or not we could get a motorhome parked in that street. While looking at the street view I got the latitude and longitude co-ordinates, keyed them into the satnav and duly turned up at spot on 2:00pm outside the apartment block where Ji Hye is now installed. Turns out David was correct and I had to park in the next street.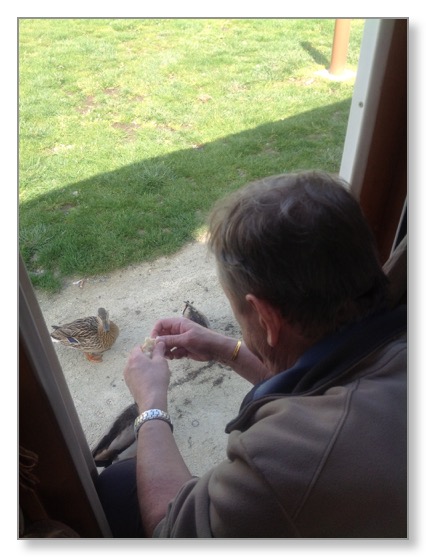 Always something to need attention and the local ducks at Bordeaux are no exception..

Not forgetting that we were also moving between her address and a new campsite, I am left wondering how on earth did we do things like that before?
22/03/13 10:22
A couple of times in the past we stayed off at a campsite just about an hour north of Paris called, Camping de Sorel. It is in the Oise region. It is a full grassy layout set in a pretty French Village which boasts the compulsory Chateau!!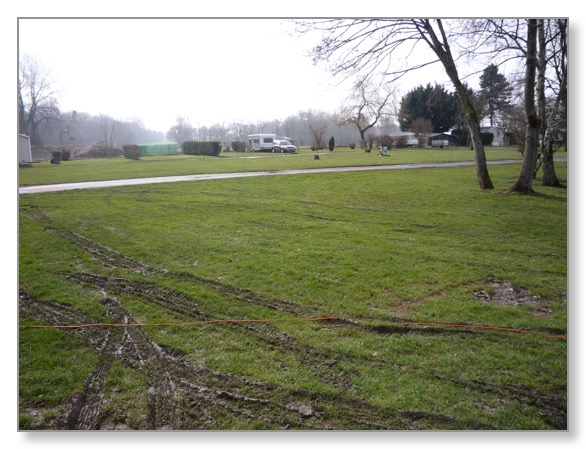 Times have changed since we were here last as they have added a restaurant which, sadly, doesn't open on a Thursday night!

The owners are a happy bubbly couple for whom nothing is too much trouble and were a little unhappy because poor weather in recent weeks had made the pitches muddy and none too attractive. Still they located us on one of the pathways and all was well except for the fact that Dougal and mud go together like peaches and cream and carpet cleaning is now added to our list of ever growing skills!

On the down side we bought 24 hours worth of Wi Fi as I like to do my writing catch up at night time so imagine my chagrin when it simply turned off and didn't return until 8:00am. Not so good.

Also we had trouble with the Sky satellite and it seems that the Sky organisation have now made it tough for people like us to access the their service from abroad. I don't pretend to understand this but no doubt I will be adding bits and pieces as I go along.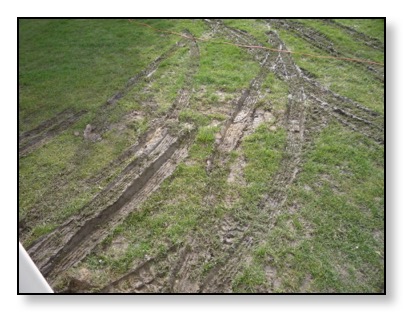 Today is a special day as Ji Hye joins us in Paris for a few days on her way to Bordeaux to study. There will be lots more about her later as her parents in Seoul will be following our travels on this blog.

Hope to see much less mud and much more sunshine. The forecast I looked at this morning is optimistic!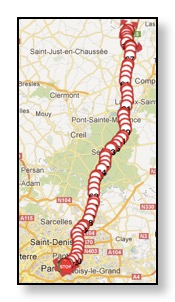 What an interesting thing the satnav happens to be. How did we ever find our way around before they came along? A great example was today's exploits. We were camped overnight about 60 miles North of Paris. Ji Hye Lee flew into Charles De Gaulle airport last night and stayed over night in a hostel just east of central Paris. So the problem for us was how to connect.

Last night she e-mailed us the address of her overnight accommodation, I put it into the search bar of Google Earth and dropped a pin onto the map. From the info tab I got the precise coordinates and promptly keyed them into the satnav. As they say over here, Le Voila! I started the trip shown on the map here and got directed to the very spot where she was standing, suitcase in hand! Minutes later we were on our way westwards out of Paris and are now settled in a beautiful site right on the banks of the River Seine. The site is called Camping de L'ile des Trios Rois, Les Andelys in the Normandy region of France. The site is dominated by an ancient castle on one side and the imposing River Seine on the other.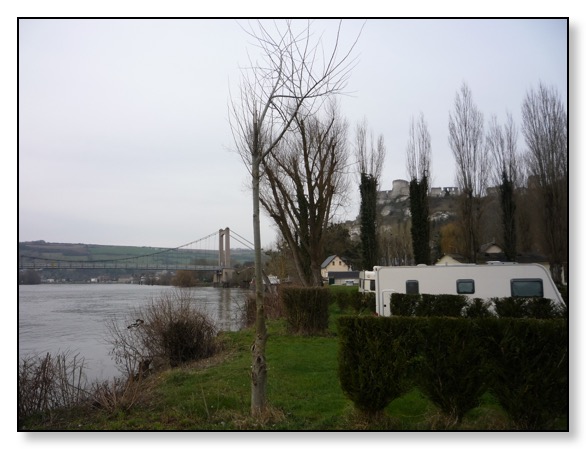 It was a special moment meeting up with Ji Hye again. For those who do not know her, she came into our lives in 2003 as a 14 year old who came to Arizona to be an exchange student. She lived with us and has remained part of our life ever since. She recently graduated in architecture in Seoul and has come to France to learn the language so that she can pursue even more qualifications. She is joining us and we will meander our way to Bordeaux where she starts her new course on April first.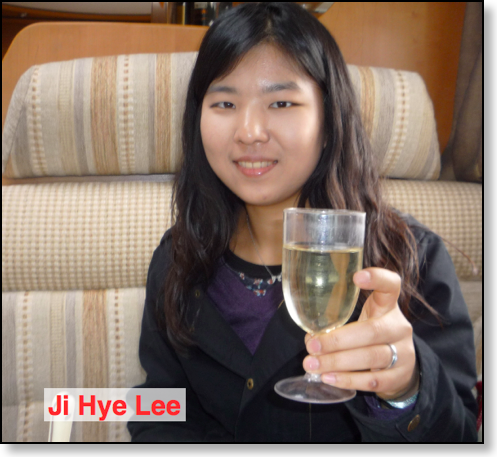 Sidebar
T